Yeah, It's accounts payable day! Who doesn't love paying the bills?! Forgive my over exuberance, but we're outsourced accountants after all and this kind of stuff gets us juiced. Hey don't judge, everyone has their thing.
If you're thinking about hiring an outsourced accounting firm to manage your books, but you're nervous about how they'll keep your bills paid, have no fear. This blog post will walk you through the in's and out's of doing it successfully.

---
One of the biggest reasons for not hiring an accounting service is a fear that they'll mess something up and you'll get a bill from a vendor with a collections notice attached. I get it. You're trying to run a great business and you can't afford to leave paying the bills in the hands of someone that's not as committed to the company's success as you are. Once it's set up correctly though, you'll save a lot of time each week and still stay in full control.
Delegating this important task can be accomplished in just 5 steps. Here's how you do it!
Step 1: Take 10 Minutes to Create a List
When we get a new client, more often than not, the business hasn't created a "recurring vendor" list yet. This is a simple list of all of the vendors you have to pay each and every month.
Here are some examples of the vendors that should be on this list:
Your monthly rent payment
Insurance companies for monthly premiums
Lenders for loan payments
Monthly subscription services like software systems or training platforms
Suppliers
You get the idea. To make it easier, we've created a simple tool that you can download to help you create this list. You can download it here.
Step 2: Utilize the Outsourced Accountants Document System
Outsourced bookkeeping services should have a document manager in place to make it easy for you to get paperwork to them. The goal here is to make it so that you only have to spend 15 - 30 minutes a week sending them paperwork. If it's taking you longer than that, ask them to work out a more streamlined system for your company. You shouldn't be spending hours and hours trying to get copies of bills and deposits to them.
Some companies use software platforms like Podio or Dropbox and others set up an email account for you to foward documents to. Whatever they use, embrace it. If you make your accountant try to use something different, they may not be setup to manage it properly which could create lost documents and major headaches. The point is to make your life easier, right?!
Step 3: Set Up a Check Run Rhythm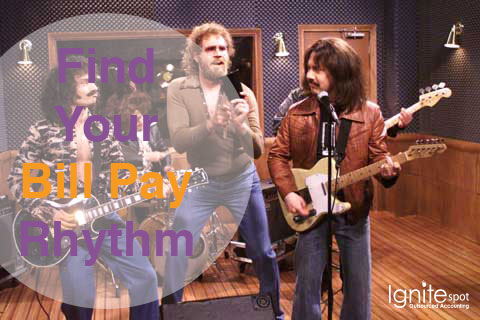 Now that you know how your outsourced accounting team gets and receives documents from you, it's time to set up a recurring check run. This is the time each week, and yes I suggest that you do this weekly, that you meet with your bookkeeper to review the bills and cut the checks for them.
It shouldn't take more than 30 minutes to review everything, so set up a recurring meeting on your calendar for once a week to get it done. Putting this meeting off to once a month may mean that bills will become overdue, and we don't want you getting late fees.
Step 4: Approve Everything
During your check run meeting, this is how the agenda should go. The outsourced accountants should have everything set up for you to review. By that, I mean that all of the bills you have sent them should be entered into the accounting software. Your bookkeeper should also have your bank and credit accounts completely reconciled at that point in time so that you know how much cash and credit line you have before you make decisions on what bills to pay.
Second, have your bookkeeper review all of the bills that are due this week and give you a total cash requirement to pay them off. For example, they should say, "Mary, you have $15,000 in the bank account and the bills that are due this week total $2,347. If you decide to pay them all, you'll have $12,653 left." Knowing that, you can plan for payroll which is coming up as well as other expenses on the line.
Third, your bookkeeper should review your entire accounts payable aging report. This report shows how much you owe to all of your vendors as of this very moment in time. Make sure that from a high level, nothing looks off kilter. If it does, you can drill your bookkeeper for more information on a particular account.
Step 5: Sign and Send
Once you know exactly what is expected from this check run, have your bookkeeper prepare the checks. This process is different when you are using an outsourced accountant. I don't recommend that you allow your accountant to have check stock at his or her office. Keep the check stock at your office for security purposes.
Instead, have your outsourced accountant mark the bills as paid in the software. As he does that, he can also mark them as "to be printed". That way, you can go into the print file, select all of the checks and print them quickly and easily. Although this adds a bit of extra work for you, it keeps you as the check-signer which is vital and gives you one last review of the checks before they go out.
---
So there you have it. Using outsourced accountants can be a powerful way to scale your business once you know how the relationship works. As usual, if you have any questions for us here at Ignite Spot, you can leave a comment in the post below or give us a call.
Cheers!
---
Recommended Next Reading:
How to Choose an Accounting Service