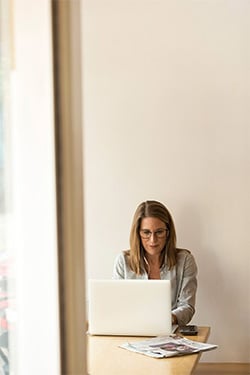 What Qualifications will my CFO have?
All members of our virtual CFO team must have the following credentials:
Certified public accountant (CPA) licensing
7+ years of experience in accounting-related work
3+ years of public accounting experience
3+ years of experience leading full accounting teams
Master's degree in accounting or taxation
QuickBooks Certified ProAdvisor status


What's the difference between an accountant or bookkeeper and a CFO?
Your accountant or bookkeeper deals with what's happened in the past. They track spending, income, and historic trends.
A CFO is the only financial expert who predicts the future of your company's finances. They analyze your financial data to determine where your business is going and how your actions impact your wealth months and years later. Business leaders use a CFO's expertise to make strategic financial decisions and drive toward their goals.
Do I Need an Accountant and a CFO?
Yes. Your CFO is useless if they don't have complete and accurate financial data to work from. You need a good accountant or bookkeeper to collect, manage, and ensure the quality of your business' data so your CFO can better forecast your financial future.
How Much Do CFO Services Cost?
CFOs are expensive. The annual cost of an in-house CFO is about $400,000. Most outsourced CFO services cost $3,000-$10,000 a month ($36,000 to $120,000 a year).
That's why many small businesses choose to go without.
But CFO services aren't a luxury. Business leaders need them to make smart, strategic financial decisions whether they're running a $1 million business or an enterprise.
Ignite Spot's outsourced CFO services start at just $950 a month. We offer this pricing to make financial strategy accessible to smaller businesses. And it's the same high-quality level of service we provide to our enterprise-level clients.
We're able to provide this critical service at such an affordable rate because we adapt our CFO plan and pricing to meet your company's needs. If you get to the point where you're paying us $5,000 a month, that's because we've increased your revenue tenfold, and your growing business requires more complex and frequent strategic thinking.
Here's what you can expect to pay monthly for Ignite Spot CFO services as you grow:
• $950 — You're a $1 to 3 million dollar business and need help figuring out accounting processes, managing cash, customers, vendors, debt, and growth.
• $1,500 — You're a $3 to 5 million dollar business opening more locations, launching new product lines, expanding your infrastructure, and potentially adding a partner to the mix. You're also thinking about what you can do to grow to $10 million.
• $3,000 — You're a $5 to 10 million dollar business dealing with all of the above plus private equity, investors, and acquisition.
• Call us — You're an enterprise making over $10 million in annual revenue and dealing with even more financial complexity.
Are There Long-Term Contracts?
Our CFO services are month-to-month. We value performance, and our goal is to make your company bigger and more profitable over time.
Written by Eddy Hood