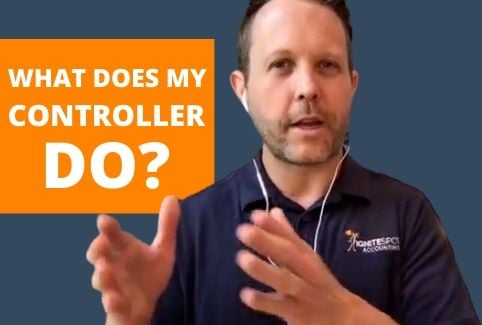 Watch the Live video where CEO, Eddy Hood, reveals what a controller does and the other different types of accountants.
Transcript
Hey everybody! This is Eddy over at Ignite Spot Outsourced Accounting. Welcome to this month's Facebook live video. In today's video, we're talking about what a controller does. What their responsibilities are so that you can get the most out of that relationship.
Entrepreneurs are usually a little frustrated with what their accountant is doing. We all have a preconception of what an accountant is or is not. The honest truth is that there are different types of accountants: bookkeepers, accountants, controllers, and CFOs. So how do you keep track of that?
The Different Types of Accountants
It's like going to the doctor. If you think about it, there are different types of doctors and they don't all do the same thing. They all have different specialties that they focus on. If you treat your accountant the same as you would a bookkeeper or a controller or CFO, then you can get in trouble, because of your expectations.
Let's say you had a stomach ache and you're not feeling good until you go to your doctor to get that sorted out. That's a good idea unless you went to your proctologist to do that. If you did, the doctor is probably going to diagnose by taking avenues that you're not comfortable with and you probably won't get the end result that you're looking for. Accountants are all different just like doctors.
Controllers Oversee Accounting Systems
A controller's job is in the name. They're meant to control or oversee the accounting system. Specifically, they stop entropy or chaos in the financial system. Often a controller will be doing things that aren't the best use of their time, like doing bank reconciliations or creating invoices. Transactional things that an accountant can do, but really that's not the best use of a controller.
They're making sure that your books are getting close on time, that your company is following its costs budgets, and tracking your margins. They make sure the bookkeepers and the rest of the accounting staff are where they're supposed to be and that the invoices are going out.
When Should You Hire A Controller for Your Business?
If you are frustrated with your accounting system or don't trust your reports, then a controller makes sure your reports are getting to you on time, and that they're done correctly. They're controlling the authenticity and the quality of those reports.
You need a better controller if:
• You feel like your books aren't closed on time
• You're never getting reports when you're supposed to be getting them
• You're up all night and you don't know where the money is going or how it's being spent
• You feel like you're constantly being pulled in a million directions you need to control
The controller is not a bookkeeper. It's not an accountant. He's not a CFO. those are all people with accounting backgrounds, but they're not the controllers of a financial system. I would argue that the controller is one of the most important people in your business. If your business is left to run financially awry, then It's really hard for you as a business owner to make good decisions.
Download our pricing guide to find out the right accountant for your business.