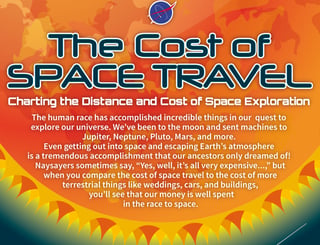 Starting a new venture is expensive. That's why few people do it, but those that take the risk and play their cards right are amply rewarded. With that in mind, if you're in the dumps about how much your business costs to run, you'll want to check out our infographic below. It'll make you feel a lot better.
We decided to see what many of the space program ventures cost in honor of the Mars Rover. It has nothing to do with accounting, but hey, it's alot of fun to look at and we had a blast (Get It?) making it.

Want to Embed This Infographic On Your Site?
Here's the Code!
I hope you enjoyed the infographic! Remember to subscirbe to the blog for more content like this in the future.