This post was written by Chaning Baker, an accountant at Ignite Spot Outsourced Accounting.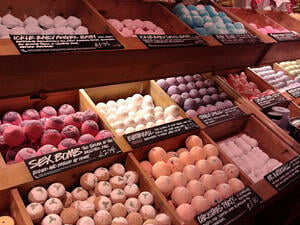 A couple months ago I wandered into a store that sold bath bombs and I considered getting a couple until my husband saw the price. He soon talked me out of buying them, and into making them ourselves. By the next weekend we had the recipe and supplies to make bath bombs. After making a couple batches and realizing how easy and cheap it was, we figured we could sell them at half the price and still make a nice profit. Yes it's true, we were purveyors of all things bath bomb.
Before we knew it, we had spent $500 on a product that was hard to sell. We had completely jumped the gun.
Here are 11 tips on How to Start a Successful Home Based Business:
Tip #1: Is there demand?
Make sure you are offering a product or service that people are willing to pay for.
Tip #2: Is it the Right Business?
You need to love what you're doing. To help pick the right business, ask yourself the following questions:
What experience do I have?
What am I good at?
How much time do I have?
Tip #3: Find Your "Why"
There needs to be a reason behind your home business beyond making money. The "why" will help keep you motivated.
Tip #4: Family Support
Every discussion on how to start a successful home based business should include the family. Everyone in your household needs to be on board for your home business to succeed. Make sure your business schedule is built around your family activities. Family should always come first.
Tip #5: Make a Schedule you can Stick With
Be realistic with the time that you have, but also not too lenient on yourself. Your schedule needs to be efficient and effective.
Tip #6: Keep Costs Low
As accountants at Ignite Spot, we see a lot of new companies get buried by their expenses. It's easy to spend money to set up shop, but you can quickly find yourself under water. To help you manage costs, subscribe to our blog for free and we'll send you a copy of our CEO's book titled The 8-Week Startup. It's got loads of information on setting up your company from the ground up including how to manage those dastardly costs. Click here to learn how to subscribe.
Tip #7: Have a Realistic Budget
Having estimates that are unreachable can be detrimental. Over estimating expense and under estimating revenues keeps things within a realistic, reachable range. Remember that things tend to take 3 times longer and cost 3 times as much. Such is life.
Tip #8: Get Educated
Learning always comes before earning. You need to commit to learning all you can about sales, marketing and operations to have a successful business.
Tip #9: Focus on Sales and Marketing
Perfecting your product comes second to getting leads, converting those leads into sales and getting repeat customers. Once you're established then you can work on perfection.
Tip #10: Test and Measure
If you don't test and measure, you can't tell if your strategy is working.
Tip #11: Get a Coach
Connect with someone outside of your business that will be objective; someone that you can rely on for the nitty gritty advice and that will hold you accountable.
Hopefully you can put these tips to use and not follow the same path as my bath bomb disaster. Always remember that you're the boss of your home business, don't let it run you.
For more information on how Ignite Spot can help you master the finances of your company, fill out the form below.