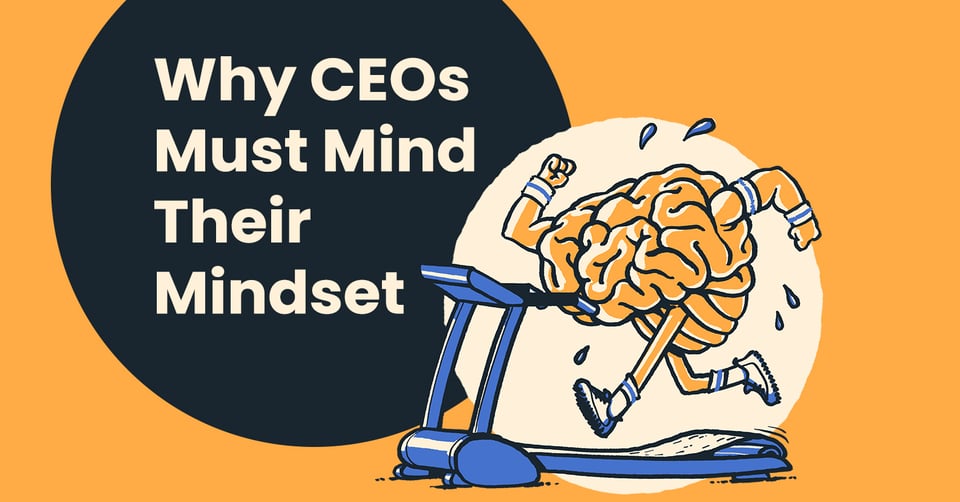 Half of CEOs report experiencing loneliness. I've worked with thousands of business leaders and believe that if CEOs felt comfortable admitting it, that number would be even higher.
Effective executives know (and harness) the power of in-person meetings, training, vision-casting, huddling, networking, and even disciplining. Perhaps most importantly, executives have historically used in-person events to refuel and connect.
But 2020 has removed that lifeline for many CEOs. Now, it's all virtual.
Counselors say that even under typical circumstances, business leaders are at higher risk for depression. Add the pressures of 2020, and you have a recipe for both individual and corporate trouble.
If a leader wants a business that's energetic, powerful, optimistic, and on-the-move, then the leader should embody that—even when they feel the opposite. Here's why leaders must prioritize themselves and their mindsets, plus tangible ways to do exactly that.
Why CEOs must maintain a healthy mindset
By far, the number one reason your mindset matters is because you matter. As an individual, your mental health is worth the effort. But as a CEO, there are other important reasons for you to take care of yourself mentally:
The team will follow your lead
A study published in the Applied Journal of Psychology found that teams under a positive, optimistic CEO:
•

mirrored the leader's positive mood

•

used less negative affective tones

•

expended less energy to achieve the same work

•

experienced better-coordinated collaboration
The same study, titled "The Contagious Leader," concluded that the effect does not move in reverse. In other words, happy workers don't typically influence their CEOs positively.
"High-status individuals are more likely to transmit their moods to low-status individuals than vice versa," state the analysts.

Tragically, when a CEO becomes depressed or experiences low moods, their staff mirrors those emotions. In a pertinent paper titled "When the Boss is Blue," experts at Griffith University and Australian National University affirm that superiors unintentionally and unthinkingly "infect" their subordinates with their low moods. The result is that lower-level associates subsequently experience those feelings themselves.
"CEOs are hired for their intellect and business expertise—and fired for a lack of emotional intelligence."
–Daniel Goleman, PhD (author of New York Times bestseller Emotional Intelligence: Why It Can Matter More Than IQ)
The business will follow your lead
If you're chronically tired, trepid, and dreary, then your business will project that outward. Partners, investors, and customers will pick up on the gloom.
In fact, no other emotional expression can cripple a venture like depression in a CEO: Experts at William and Mary Law School say that a CEO's narcissism, over-optimism, fear, and even anger are often used to benefit the business. But "unlike the four other CEO pathologies, nothing good is likely to come from CEO depression."
For a real-life example, consider Elizabeth Holmes, the Theranos founder whose now-defunct company was predicted to revolutionize the medical industry. Her depressive mental state was so confusing that customers and investors were conflicted—industry insiders couldn't decide whether to invest in the company or charge her with fraud.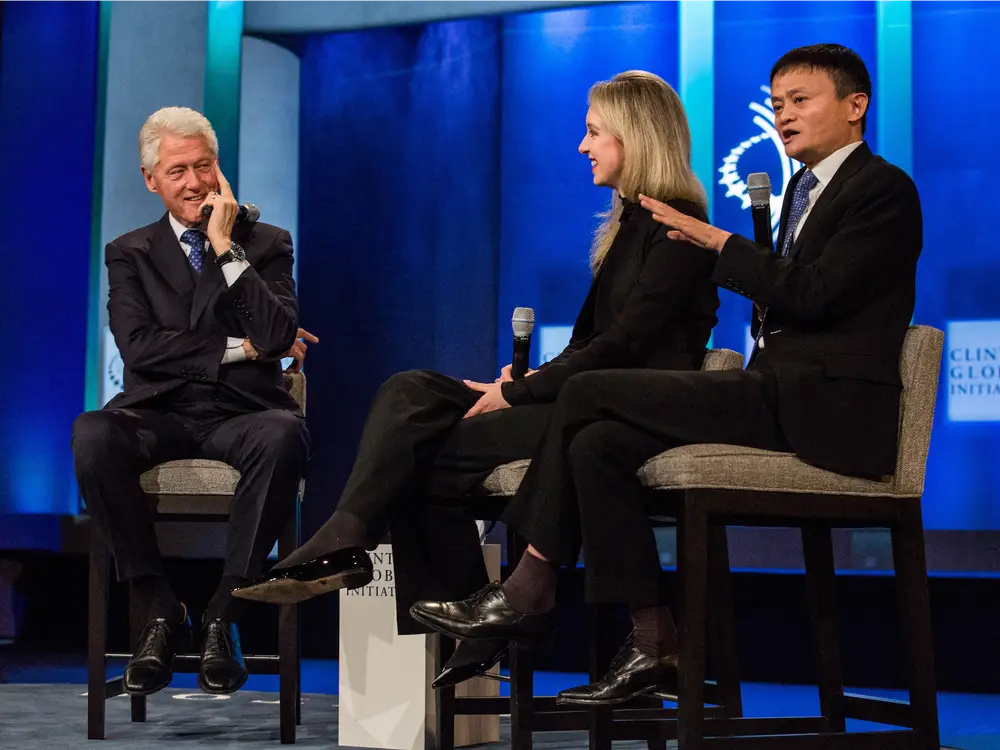 Elizabeth Holmes with President Bill Clinton and Alibaba co-founder Jack Ma
Image Source: Business Insider, Andrew Burton/Getty Images via Vanity Fair
For a version of the same phenomenon from the opposite end of the spectrum, recall Alan Mulally, who became CEO of Ford Motor when it was near bankruptcy. Mulally turned the business around using what he calls "positive leadership." The company has been profitable every year since.
CEO Mary Barra achieved a similar feat for General Motors based on realistic positivity that acknowledged challenges while embracing opportunity.
"Usually, the glass is three-quarters full," she recently told Duke University business students.
What happens when CEOs get (and stay) discouraged
Allow yourself to sink and stay down, and you'll start seeing some immediate adverse effects.
For example, have you ever felt your depression impact your decision-making? If so, you're not alone. CEOs who experience fear, anxiety, and low moods can make direction changes based on gut feelings instead of their usual north star—data, expert input, trends, peer advice, and astute observation. This is especially true today when no precedent has been set, and we're all simultaneously figuring out how to lead amid the unique volatility. Unfortunately, any mistakes we make when we're down can force our businesses to make subsequent, equally unreliable over-corrections to attempt some form of order.
A CEO who doesn't prioritize their mental health may soon notice their company's financials start to reflect their mindset. This measurable phenomenon is called presenteeism. Presenteeism is the financial losses incurred by workers (and executives) who are hurting while on the job. If a leader's moods are affecting the whole team, these losses will begin to show on paper. In fact, the National Alliance on Mental Illness of Massachusetts ("NAMI Mass") says that presenteeism costs businesses much more than absenteeism.
The number one cause of presenteeism? Depression. In fact, the NAMI Mass report says that presenteeism accounts for 81% of all lost productivity time. Physical ailments and injuries account for less business "wastage" than discouragement and depression in leaders that insist on showing up without a healthy mindset.
How to improve your mindset so your business will follow
You may have more influence over your mind than you realize. Avoid the pitfalls of negatively influencing your people and business. Here are some tools you can reach for both now and in the long term to help you address chronic low moods or an unpredictably up-down-up-down mindset.
Short-term fixes to do today
Short-term remedies are exactly that: temporary aids to prop up the mind and will until long-term, more lasting changes can be made. So don't implement these fleeting fixes and expect long-term success. Instead, take these actions until you can devote time and energy to enduring improvement.
First, determine your condition. Reading an advice-filled or encouraging post like this one can't tell you precisely how deep your depression runs. Biochemical imbalances, for example, can't be cured by taking a few days away from your desk. Talk to a qualified professional now (yes, now) to assess just how severe a condition you're facing.
Next, address the physiological factors affecting your mindset.
Once you've course-corrected the physical factors, it's time to tackle short-term social and professional stressors.
For that, simply create and stick to a pre- and post-meeting routine. Prepare by deciding ahead of time what you want to establish in (or get out of) the meeting, envisioning that productive outcome, anticipating and thinking through obstacles, and reviewing your meeting attendees' most recent work.
Take a minute to close your eyes and breathe deeply. This significantly lowers stress hormones and removes distractions from your mind. Then, after each call, decompress by jotting down a few takeaways from the conversation and adding action items to your calendar. And again, take one more minute to close your eyes, exercise your diaphragm, and clear your mind.
Short-term fixes always seem trite—especially to those who don't practice them regularly. Incorporate the above actions consistently. Schedule a five-minute appointment with yourself a week from now to check in and assess how you feel having made these changes.
Long-term mood management tactics
The above tips can help you get on track or just get through your day. But leaders can only proactively prevent lasting trouble by addressing the root cause.
• Open up about it. Anything more than a fleeting mood is worth exposing for examination. Tell a qualified professional what you're feeling. They'll help you rule out (or treat) bigger mental health issues that could sabotage your efforts to "cheer up."

• Be honest with your team. President and CEO of AdventHealth Daryl Tol recently unveiled his ongoing battle with anxiety. To hide his condition, Tol said he even sought care outside of his own health system in a nearby county. When he finally told his organization about his struggle, others on his team began speaking openly about their own mental health, strengthening the team's bond.

So trade your outbursts or withdrawal episodes for an honest, approachable, ongoing dialogue.
• Take immediate action by hiring a coach. Decide—by the time you reach the end of this article—that you will engage a business coach. "It's lonely at the top," says executive coach Bill Treadwell. "And just as a CEO holds his hires accountable, an objective third party—a coach—serves to hold the CEO accountable." Treadwell's protégée, Forbes contributor Ben Walker, says a coach can:
lend you their learnings and experience
help you spot and correct common patterns and pitfalls
handle the emotional ups and downs of being a CEO
give you ongoing training and confidence
Watch the live coaching session with executive coach, Mike Savage.
Watch the live coaching session with executive coach, Mike Savage.
You're not alone, and we're going to prove it
CEO discouragement and depression are frighteningly common. But if nothing else, be encouraged that your low moods are not unique to you. Great leaders like Abraham Lincoln and Winston Churchill battled their own depressive episodes long ago and still changed the world.
Today, hip business leaders from Goop's Gwenyth Paltrow to Twitter's Jack Dorsey still fight the temptation to relinquish themselves to their excessively high highs and low lows. And in 2020 especially, almost all CEOs are feeling shaken.
"If your career plans include a corner office and the CEO title, you should probably count depression among the hurdles you may face along the way."
– Dennis C. Miller (former CEO of Somerset Medical Center and Healthcare Foundation) via IndustryWeek

Has this year left you in a mental funk? Thankfully, none of us are in this alone. Watch the FREE workshop recording to get your head right and Refuel Your Business.