Bookkeeping: Balancing and Maintaining a Checking Account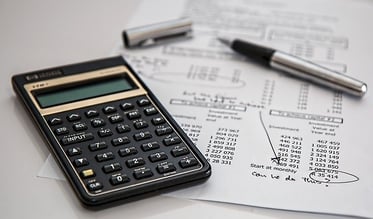 Written by Eddy Hood
Balancing a checking account is important because you'll need to know exactly where your money is when you need it. Bookkeeping is important for your personal accounts; it's simple and allows for you to know how much money you have so you can budget for expenses, catch any mistakes that can lead to issues with your bank and your financial security, avoid bouncing checks, and see if you are earning enough interest. Balancing and maintaining your checking account is easy, and you can do it in ten easy steps.
Step 1: Match Your Checkbook and Your Bank Statements
The main idea behind balancing your checking account is to make sure that both you and the bank know how much money you spent. Make sure your checkbook matches your bank statement by following these steps:
Gather the needed supplies, including your checkbook, your bank statement, and any deposit or withdrawal receipts.
Look through each item in your checkbook register and compare it to your bank statement.
If something is missing from your checkbook register, add it.
Place a checkmark next to matching items on both your bank statement and your register.
Research any inconsistencies you can't account for.
Once the checkbook and the bank statement match, your bookkeeping is done until next month.
Step 2: Maintain a Set Balance
It's always a good idea to have a little bit of extra money in your bank account. This extra money gives you a cushion just in case you find yourself in an emergency situation.
Step 3: Protect Yourself
When you don't have enough money in your account to cover a payment you made, you will incur non-sufficient funds (NSF) fees, and you risk the payment not going through. This can be a pain to deal with, so banks have a service called overdraft protection. Overdraft protection gives you a line of credit with the bank, so your payments will always go through and you won't have to deal with the hassle of bounced-check fees. However, overdraft protection can incur fees as well, starting at about $25.
Step 4: Get Online Banking
Online banking is free and convenient. It provides many benefits you don't want to miss out on:
Quick and easy access to your accounts on a computer or mobile device
The ability to transfer funds without ever visiting the bank
Online bill payment
Bank statements viewable online
Step 5: Do You Have Funds Available? Know the Rules
For the most part, you deposit money into your bank account and it's then available for use; however, this isn't always the case. Each bank sets their own policies regarding hold periods for deposits. The hold is typically at least one business day but can be several. Knowing the rules for your specific bank can help protect you and your money.
Step 6: Make Use of ATMs
The ATM is a very convenient tool to help you stay on top of your bank account. ATMs allow you to do a number of things with your account, but you will need to have your ATM card and personal identification number (PIN) with you. Most ATMs allow you to do several basic account maintenance actions:
Check your account balance
Make deposits
Make loan payments
Transfer funds
Withdraw cash
Step 7: Use Your Debit Card
When you pay for something with your debit card, the money comes directly from your bank account. Unlike when you use a credit card, this is money you already have. Debit cards act like cash without having to carry cash around, which can help you to spend within your means. But you will need to remember your PIN in order to use them.
Step 8: Watch for Fraud
Fraud can happen to anyone anywhere. It's important to protect yourself and your accounts the best you can. When you balance your accounts, make sure there are no extra charges on there that you didn't authorize. If your debit card goes missing, make sure to contact your bank immediately so they can put a hold on your account.
Step 9: Keep in Touch With Your Bank
Your bank is your best friend when it comes to protecting your accounts. If anything looks wrong in your accounts, you lose your debit or ATM card, or you just have questions, contact your bank. They will help you figure out any issues with your account and help protect you from fraud.
Step 10: Take Advantage of Electronic Notifications
Many banks offer email and text-message notifications. You can often pick and choose which ones you would like to receive and how you would like to receive them. Some of these options include:
Available account balance
Card use
Unusual bank activity
Mobile deposit
Cleared check
Low balance
Big purchase
Password change
Large ATM withdrawal
Smart bookkeeping can be the difference between financial freedom and living life in constant fear of not having enough money for the things you want and need. Managing your checking account is more than just balancing your checkbook once a month; it takes dedication to making sure you are doing everything you can to protect yourself and your money.
Additional Bookkeeping Resources