Eddy Hood, MBA & CEO of Ignite Spot
Eddy Hood has served in the accounting industry since 2003. He started his career as an accounts payable clerk for Destination Homes, a home builder in Layton, Utah. He served in that position for three years before becoming the assistant controller. There, he helped implement a purchase order system and a job costing platform to track the company costs and revenues of the 280 homes it built each year. He also gathered organization-wide date and prepared a twelve month cashflow forecast for the CEO on a weekly basis.
In 2007, Eddy left Destination Homes and became an auditor for Child, Van Wagoner, and Bradshaw, a public accounting firm based in Salt Lake City, Utah. In that role, he helped audit businesses in both private and public sectors including aviation, hospitality, lending, and real estate.
In 2008, Eddy audited a company that was experiencing embezzlement. His job was to help root out the accounting problems within the company and to help them build better processes. During that audit, he decided to start his own company that would focus on the very issues he helped this company to over come. His goal was to help businesses gain better insight into their financials, their accounting processes, and their growth opportunities.
Education
2007 - Bachelors of Science in Accounting, University of Utah.
2008 - Master of Business Administration, Weber State University.
Interviews, Speaking Engagements, and Accomplishments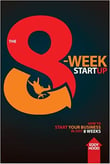 Book Written by Eddy Hood: The 8-Week Startup
Eddy Hood is the author of The 8-Week Startup available on Amazon. It is a guide for all new entrepreneurs looking to launch their new ideas in a focused and meaningful way. In this book he gives new business owners a step-by-step system that will help them to methodically generate new ideas, find the funding, and build a lasting company.
Interview with Eddy Hood: Slow Down to Do More
In this interview, Eddy Hood talks about the chaos of being a business owner and how to slow down in order to get more done. Completed, by Chaya Weiner on Medium, the goal of this interview is to maximize productivity on a stable way. Here's a quote from the interview:
Slowing down forces you to be present with your challenges, and to choose to tackle the ones that make a difference. When we run ragged, we deal with all of the problems that are thrown at us, and most of those problems are insubstantial time wasters.
Interview with Eddy Hood: Underdog.NYC
In this interview, Eddy speaks with Jason Navallo regarding what it was like getting Ignite Spot Accounting off the ground. They discuss the nuances of launching a company, and why staying focused on the important things makes all the difference. Here's a quote from the interview:
Come into work every day expecting the absolute best from yourself and your team. Never walk through the doors with low energy. If the CEO has high energy, it feeds the team and they show up with purpose.
Interview with Eddy Hood: The ProGuide
In this interview, Eddy discusses his book, The 8-Week Startup.
You can listen to the entire interview here
Business Coaching Background
Eddy Hood is a business coach at heart. He focuses on how to help businesses develop their financial wealth by creating better accounting processes and getting access to higher quality data. With that data, he helps businesses figure out how to scale their operations towards larger platforms.
Learn about Eddy's Experiences with Coaching Here
Quotes by Eddy Hood
"You've got to do some forecasting," Hood says. "Hope is not a strategy." - Gusto Article Titled How Businesses Can Prepare for Minimum Wage Increases
"As a business owner, your employees are your number one asset." - Article by the National Federation of Independent Business titled How do Employees Effect Small Business Financial Performance
Popular Articles by Eddy Hood
The Four Basic Types of Financial Statements
What is Business Investment Accounting?
Financial Literacy Guide for Kids
Other Resources by Eddy Hood
Here's an example of a YouTube Video Eddy has created:
Pictures of Eddy Hood