Affordable Care Act Small Business Requirements
Written by Eddy Hood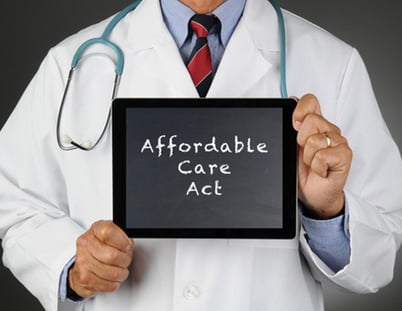 When a small business owner opts for outsourced accounting and bookkeeping services to an outside firm, he or she can focus on running the company while experts take care of the books. At Ignite Spot, we strive to address the individual needs of all of our clients while empowering them to understand how we take care of their accounting needs. One of the most frequent topics we address with clients are the Affordable Care Act small business requirements. Understanding the relationship between the Affordable Care Act and small business responsibilities is an excellent first step towards efficient, cost-saving, and well-informed accounting practices.
In essence, the Affordable Care Act business requirements are quite straightforward. The act is designed to ensure that all Americans have access to affordable health insurance coverage. Companies with 50 or fewer employees are eligible for affordable insurance coverage through the Small Business Health Options Program (SHOP). Businesses with more than 50 full-time employees are generally no longer considered small businesses. Accordingly, they typically need to pursue other insurance options.
Perhaps the most important theme related to the Affordable Care Act and small business owners' responsibilities concerns reporting procedures. In many cases, employers must report the value of the health insurance coverage provided to each employee on their W-2 forms. In addition, for any employee wages exceeding $200,000, employers typically need to withhold and report an extra .9 percent on their tax forms. Finally, beginning in 2015, any employers who provide self-insured health coverage to their employees must also file an annual return for each of the insured employees.
Other pertinent Affordable Care Act small business requirements relate to payments and credits. For employers who cover 50 percent or more of their full-time employees' premiums, Small Business Health Care Tax Credits are available. Note, however, that these credits are only applicable for employers with fewer than 25 full-time employees earning an average salary of less than $50,000. As for fees, employers who self-insure may need to pay a fee into the Patient-Centered Outcomes Research Trust Fund.
Acquainting oneself with the Affordable Care Act business requirements is an excellent step for any small business owner to take. Beyond the general strokes, small business employers should heed the specific guidelines that apply to their company. For example, the guidelines of the Affordable Care Act differentiate between businesses with 25 employees or less, those with 26 to 50 employees, and those with 51 employees or more.
Since the Affordable Care Act is a relatively new piece of legislation, it's natural for questions to arise among both seasoned business owners and entrepreneurs heading start-ups. To best understand how the act affects an individual business, it's advisable to consult with experienced accounting and bookkeeping experts. By working with Ignite Spot, for example, it's possible to peruse relevant materials online and to download even more comprehensive information on a range of pertinent themes. When done right, outsourcing one's accounting needs should streamline your business responsibilities while keeping you better informed than ever of your financial picture and tax responsibilities.
Refer to these links for further information about the Affordable Care Act and how your business can best fulfill its requirements:
Learn More About Similar Accounting Topics:
Understanding the Accrual Accounting Method
The Difference Between Cash Basis and Accrual Basis Accounting
The Purpose and Practice of The General Ledger
What is the Cash method of Accounting?
What is Activity Based Costing?
Generally Accepted Accounting Principles (GAAP)
Know Your Options in Small Business Finances
The Effects of Small Business Bankruptcy
How Do Small Business Loans Work?
The Importance of a Business Plan
Choosing the Best Small Business Credit Card
What is a Business Investment and How Should It Be Accounted For?
How Hard Is It To Get a Small Business Loan?
Understanding Different Entity Types
How Much Capital Is Needed to Start a Small Business?
Getting Involved in Business and Communicty Organizations
What are Business Liabilities?
What is Business and Financial Leverage?