You log onto your Yelp account, checking in like you do every once in a while. You've got an alert—a new review. As you click through to read it, your stomach quickly drops: it's an angry customer.
Negative reviews are hands-down one of the worst parts of running a business, but if you've been in the game long enough, you're bound to get one sooner or later.
Though it's unpleasant, handling negative reviews is an essential part of managing your company's reputation. According to BrightLocal's 2016 Consumer Review Survey, 84% of consumers trust online reviews as much as a personal recommendation, and 90% of consumers read fewer than 10 reviews before forming an opinion about a business. That's a lot at stake!
To ensure negative reviews don't bring down your business, follow these seven steps immediately after receiving one.
Respond ASAP
The worst thing you can do after getting a bad review? Nothing!
If you leave a bad review just sitting there, languishing, you convey that at best you're failing to keep tabs on your customer feedback and at worst, you simply don't care about it.

Respond to negative reviews as soon as you can. Even if there's nothing you can do about the situation right away, let the reviewer know you've received their message and will be back in touch soon to address it.
This is a good reason to check your profiles on Yelp, Google Reviews, Twitter, etc. frequently; at least a few times a week is best. If you're too swamped to stay on top of them, delegate the task to your social media manager, PR director or even an intern.
Make your response public
Don't just send an email or direct message to the negative reviewer. Make sure your response is visible publicly on the same thread as the initial bad review.
Why does this matter? Well, it's pretty likely other people are going to see the negative review, and this way they'll see that you're actively taking steps to correct the customer's problem. You don't want it to look like you just left an upset customer hanging.
If you need to discuss personal details about a transaction by communicating with the customer privately, post a short public message that shows the issue is being resolved elsewhere. For example, "We sincerely apologize for the issue with your order, Jim. Please check your inbox. I just sent you a message with some steps to help resolve this as quickly as we can."
Be diplomatic
It might be hard to believe, but I've seen a few instances where a company has had the audacity to argue with a dissatisfied customer—publicly, no less! Remember, as we discussed in item #2, everything you post can be viewed by future customers scoping out your company.
But that's not the only reason to avoid splitting hairs with an unhappy customer; the bottom line is, even if you're in the right, you're never going to win by telling the customer he or she is wrong.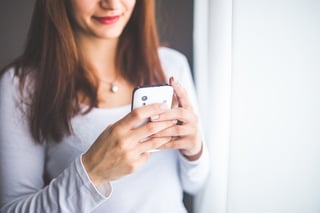 It's also in your best financial interest to resolve the situation amicably; research has found that companies who resolve complaints in the customer's favor received repeat business from the customer 70% of the time.
Be respectful, be empathetic about their situation, and never get into a war of words.
Speak as a person, not as the brand
Today's customer craves automation, but they also want access to a living, breathing human when something goes wrong. According to an American Express survey, 67% of customers have hung up the phone out of frustration they could not talk to a real person when trying to resolve a complaint in the last 12 months.
When you're communicating via digital mediums, like email, live chat or Twitter, speak as a person and not as "the brand."
For example, in response to a negative Tweet, you might say "Hi Shawn, this is Tina with Customer Support. Let me get started resolving this issue for you."
By letting the unhappy customer knows there's a person rather than a robot handling their complaint, it makes them feel heard and lends more credibility to the response you provide.
Offer to correct the situation
The most important step: do something about the situation.
In some cases it'll be as simple as offering a refund or replacing a damaged order. In other cases you might not be able to reverse an earlier mistake, but you can offer something to make up for it.
Here's a perfect response I recently came across from the owner of a restaurant in my area:

This response checks all the boxes. It's from a real person, the restaurant owner. It starts with an apology and is empathetic about the customer's bad experience. Finally, it makes an offer to correct the situation: a repeat visit with dinner on the house.
Did the customer ever take them up on it? Who knows. But just by seeing that response from the owner, as a prospective customer I feel much more assured that this bad experience was an isolated incident than if the negative review was never addressed.
Take stock of what's being said
Some customers will simply never be happy. You take their negative reviews with a grain of salt and move on.
But if you're getting a steady stream of negative reviews or hearing the same more than once, it's probably indicative that there's a real issue at play. Avoid the temptation to write off negative reviews so easily and take stock of what customers are actually telling you.
Negative reviews can be a great source of direction for where to make improvements in your business. They're also a great opportunity to do a "you asked, we answered" case study where you take a particular issue and improve it, demonstrating how you're always striving to provide better service for your customers.
Ask for positive reviews
In most cases, services like Yelp, Google and Amazon don't allow businesses to remove negative reviews. So what can you do to stop your star rating from tanking? Make sure satisfied customers are making their voices heard, too.
Seven out of ten customers will leave a review for a business if asked to, so ask! We talk more about asking for positive reviews and referrals in this post.
Manage your business more effectively with weekly advice from The Profitable Entrepreneur! Subscribe to our blog below.
Additional Resources
How to Get Word of Mouth Referrals