As an entrepreneur, time is your most valuable resource. If you're like me, you often find it's eaten up not by the big, important projects, but by the minutiae of everyday life.
This blog is all about helping you live your most profitable life, and that means allocating ample time to the things that bring you meaning—not minutiae. Thanks to technology, we've got new, innovative ways to handle some of life's most mundane task so you have more time for what really matters: growing your business and doing the things you love.
Nix the grocery store
What if you could eliminate slogging through shopping-cart-filled aisles from your life… forever? Sounds like a dream come true to me.
First, get Amazon Prime. If you're an entrepreneur, this one investment alone will pay for itself ten times over in time and money saved. Trust me!
Then, start using Prime Pantry, a delivery service for all of your household staples, from paper towels to peanut butter. For a flat delivery fee of $5.99 per box, the items will be delivered to your door all at once, saving you not only the time of a shopping trip but the hassle of lugging in all those bags.
Need fresh produce? There's a delivery service for that, too. Services like Farmbox Direct deliver to most major metro areas for a fee of around $5. Just search 'produce delivery + your city' on Google.
Ask your assistant
The new crop of "intelligent personal assistants" like Google Home and Amazon Alexa are great for checking news and weather on the go. But did you know they can also be your deskside assistant for basic calculations?
Next time you're adding sales tax to that invoice, just ask Alexa "what's 7% of $432?" and get an answer without opening the calculator.
Need to know an appropriate time to set a phone call with your client in Milan? Google Home can tell you the answer.
Shave seconds off simple tasks by taking full advantage of your smart little helper's features.
Stop doing laundry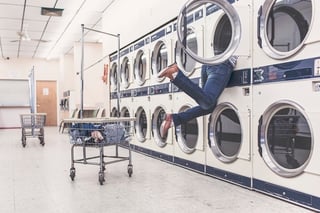 I used to think only stodgy businessmen sent their laundry out to be done. Then I found Cleanly, and it. changed. my. world. I'm not kidding—this one app saves me hours each week.
Throw all your laundry in a bag (which they provide). It'll be picked up, laundered and delivered back to you folded neatly or pressed and hanged within 24 hours, and it costs just $1.50 per pound. Give up laundry completely, or simply use it to save your sanity on those weeks where your schedule is wall-to-wall packed.
Most on-demand laundry apps are city-specific, so find one for your city by searching on Google or in the App Store.
Batch your emails
Your inbox is one of the biggest time suckers there is. And yet, email is a necessary evil.
Instead of spending two minutes here, five minutes there popping into your inbox and getting completely sidetracked from what you were working on, only check your email at certain intervals throughout the day.
This, obviously, is impossible to accomplish on your own free will. That's why a service like Batched Inbox comes in handy. It's a Gmail extension that holds emails from entering your inbox until times you specify. You might opt for the top of every hour or just a few times throughout the day.
When you know that a batch of email is coming in, you can read and respond to each message in one fell swoop, which is much more efficient than addressing them one-by-one as they come in.
Save time in the coffee/lunch line
Wasting time waiting in line is a thing of the past. Most popular on-the-go eateries now offer advance ordering so you can grab what you want and be on your way.
Starbucks and Panera Bread, for example, both have their own apps that allow you to order and pay ahead of time, then swing in, grab your order and go sans the wait.
With a few taps on your smartphone as you're walking out the door, you'll pick up precious minutes you can use to extend your morning walk or actually take a break on your lunch break.
Automate your refills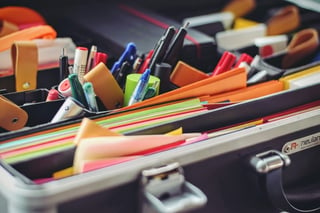 Whether it's paper for the office copy machine or toilet paper for your guest bathroom, eliminate those "crap, we're out" moments by setting up automatic refills on your recurring purchases.
For office supplies, there's Staples Auto-Refill program. For household supplies, try Amazon's Dash Button.
You'll cut down the number of things you have to manually run out and buy each month, saving you time (and space in your brain!).
Get human help with tedious tasks
Fancy Hands is one of my favorite finds as of late. It's a platform for finding U.S. based virtual assistants to help with, well, just about anything.
When we think virtual assistant, we typically think of tasks like responding to emails or scheduling appointments. Fancy Hands takes it in a totally different direction, focusing instead on all those little, tedious offline things that can eat up hours of your day.
Here are just a few of the annoyances you might eliminate:
Tracking down a lost package and having it rerouted
Researching and getting quotes from different cable providers
Selecting and ordering gifts for friends and clients
Planning trips
Finding a dog walker
And a ton more
When I think of all the time I no longer have to spend on hold, I get a little giddy.
Make use of location based reminders
This is an awesome little smartphone feature most people don't take advantage of. Location-based reminders for iPhone and Android remind you to do things based on where you are.
For example:
Remind me to grab stamps when I'm near a post office
Remind me to email Sam when I get to work
Remind me to swing by the dry cleaner when I leave the office
It's a great way to avoid making multiple trips and also ensure you remember your most important to-do's.
The point of this all isn't to spend more time working—far from it. It's to take back more of your time and spend it on what you love instead of empty tasks. That way, you'll have more energy and stamina when you are working to be the best entrepreneur you can be.
Ready to build your most profitable business? Subscribe to our blog below!
You Might Also Like...
6 Things You Can Outsource to Save Time and Money