Project Ignition Has Launched
We're excited to announce our new video series titled "Project Ignition".
Each week we'll be producing a video to answer the burning questions we get on a daily basis.
But these won't be any ordinary videos, these are going to be epic. The footage will inspire. The music will move. The jokes will be written by accountants. In the end, each 1 to 3 minute video will help you better understand what it's like to be a client.
Oh, and by the way, we've posted a few dirty little secrets in this post. Let' see if you can find them.
Our New Resource Center
As we produce each video, we'll add the link to it below. We're also in the middle of coding our new resource center! As we build each of these videos, we'll add them there as well. We expect that our resource center to be live by March 12th, 2015.
Here's how to navigate to it:

The Getting Started Video Series
We're sure that you're falling out of your chair right now in anticipation for these videos. So for those interested in what's coming, here what we have planned and when.
What Is Ignite Spot anyway? (Available March 16th)
How long does it take to get set up? (Available March 23rd)
What documents do you need from me to get started? (Available March 30th)
How do I get documents to you? (Available April 6th)
What accounting software do you use? Available (April 13th)
Who would my accountant be? (Available April 20th)
What if my books are behind? (Available April 27th)
Are there contracts? (Available May 4th)
What industries do you serve? (Available May 11th)
What makes you different from other accountants? (Available May 18th)
What reports do I get? (Available May 25th)
How do you track my cash? (Available June 1st)
How do you invoice my customers? (Available June 8th)
How do you pay my bills? (Available June 15th)
How do you do job costing? (Available June 22nd)
We Learned to Animate!
Sometimes you need to learn a new skill when life calls for it. We wanted a new video bumper for these videos to make them really pop. Check it out below and let us know what you think. These 9 seconds of video took a member of our staff 4 hours to create, but we think it was worth it. Dirty little secret #1: We've watched this way too many times and cheered at our computer screens.
The Death of a Dear Friend (The Birth of a Superstar)
There's a lot of excitement here at Ignite Spot Headquarters for Project Ignition. In fact, many of the staff are putting on their pretty faces to be in the videos. We're busy upgrading our video studio, learning fancy video tricks and more. Here's a picture of me dangling dangerously from the top of a ladder to try and fix a problem in our studio. Every time the air conditioning came on, the pipes would rattle and we can't have that in our new videos.
If you've never seen accountants at their most vulnerable and exposed, just wait until you see us in front of the camera.
The Old Camera: Pause for a Moment of Silence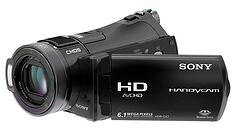 As many of you know, we have our own in-house video studio. What you don't know is that we another dirty little secret. We've been filming our videos on a crappy $150 Sony Handycam that we bought from BestBuy 6 years ago. Let's all pause for a moment of silence as we retire the little guy.
(Queue silence)...
He served us well and we'll miss him. Goodbye old friend.
The New Camera: We're Getting Serious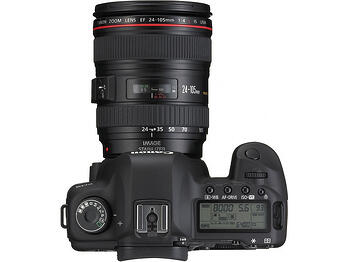 And now the big announcement! We're replacing our camera with the Cannon EOS 5D Mark II. To say that were excited is a huge understatement. Our videos are going to go from level 1 to level 10. The best part about this camera is that we can change lenses and have so much control over the end product. Our accounting videos will never again be the same. In fact, you may find yourself returning to our website on a daily basis just watch them when your co-workers aren't paying attention. Don't worry, that can be your dirty little secret.
What Videos Should We Make?
If you have a question about getting started with Ignite Spot that we haven't addressed in the video list above, we would be eternally grateful if you would quickly make a comment below. What questions do you have that should be answered in our video series?