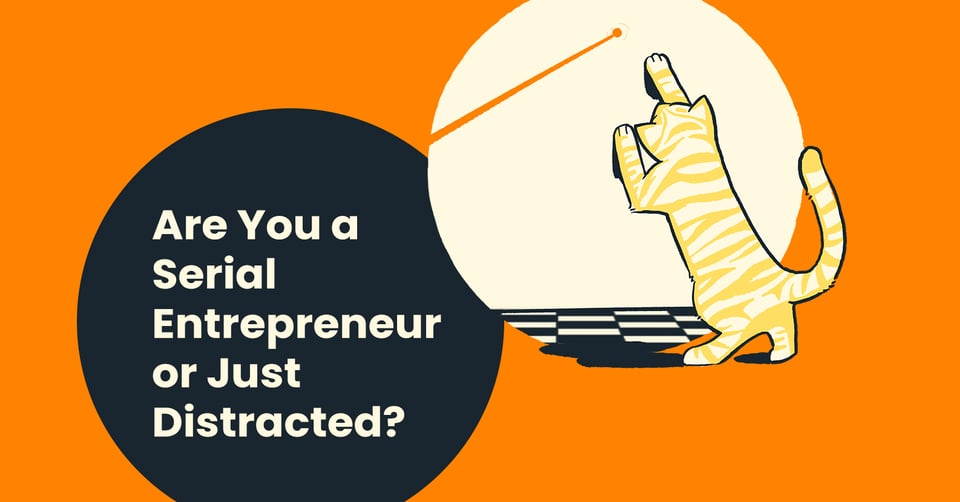 We recently heard a serial entrepreneur describe the many tantalizing business ideas in his mind. "I'm like a caged animal," he huffed. His frustration contradicts what looks like the pinnacle of his career: just a few years ago, he launched a business, and it's doing very well. Why the angst?
Because he gets a rush from starting things, not from long-term follow-through.
In our work with thousands of business owners, we've seen a lot of successful entrepreneurs who feel this way. They're constantly generating viable ideas, yet they feel trapped in a business world of their own creation.
Don't let your current business hold you back. And don't let your unending inspiration sabotage your current business. Instead, get the two to work together. Here's how.
Serial Entrepreneur Vs. Distracted Leader
Know the common indicators that reveal whether you're a repeat founder ... or just a bullish wanderer.
A serial entrepreneur is a business founder who starts or acquires multiple ventures, often in a relatively short period. Common markers or characteristics of a serial entrepreneur include innovative ideas, a risk-taking personality, and, often, magnetic charisma.
Being a serial entrepreneur puts you at an advantage.
86% of "unicorn" founders have previously created other companies.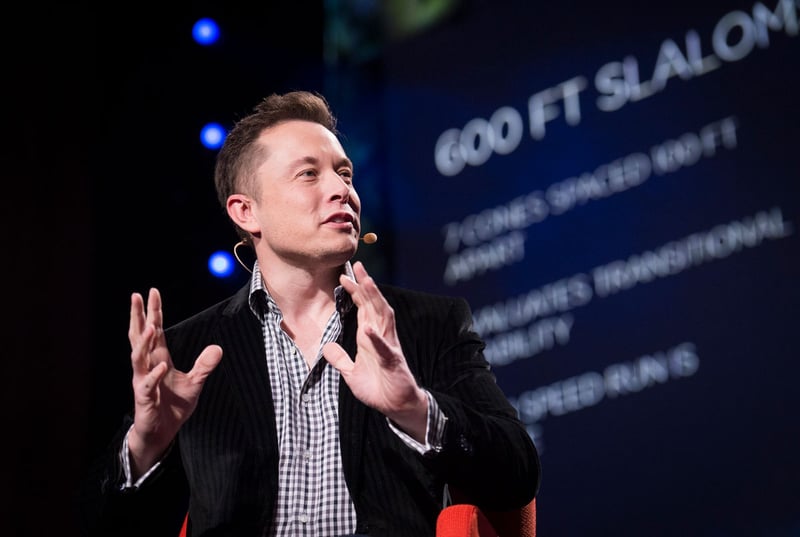 Elon Musk by James Duncan Davidson is licensed under CC BY NC 3.0
Elon Musk is a famous example of a successful serial entrepreneur. He started Tesla, SpaceX, the Boring Company, Open AI, and more. For Musk, starting new things works because his experience builds with every endeavor. He uses past learnings to inform present decision-making.
To become a true serial entrepreneur, founders must look back to see if any of their previous endeavors have been successful. If not, they may simply be distracted leaders.
By contrast, distracted leadership is marked by a sidetracked, discontented, and angsty business owner. And this preoccupation with unrelated opportunities doesn't affect just the leader. Bain analysts have linked decisiveness to employee satisfaction. Team confusion, momentum loss, and "tremendous stress" are the result.
Adam Neumann, who led WeWork, is a good example of this pitfall. He made a string of manic acquisitions that Vox called "all over the board." Oddly, some of the moves even seemed innovative at the time. Except, perhaps, the purchase of a massive wave-pool AI and manufacturing company.
We find another example of this discombobulated leadership in the founder of Mic.com, Chris Altchek, who unwisely pivoted to video-only, overbelieving the hype, and eventually had to lay off most of the company's staff.
Neal Dempsey, managing partner of Bay Partners, writes that your previous endeavors are a good indication of your potential:
"You may be surprised to learn that investors, especially venture capitalists (VCs) like me, are not impressed by serial entrepreneurs. If after 10 tries you still haven't gotten it right, it's time to reconsider the entrepreneur life."
Research supports this. Professor Francis Greene, the chair of entrepreneurship and the head of the Entrepreneurship and Innovation Group at the University of Edinburgh Business School, oversaw a study of 8,400 startups. He found that, when compared to first-time founders, failed entrepreneurs were more likely to dissolve their businesses or go bankrupt the second time around.
Source: the Wall Street Journal, "Why Entrepreneurs Don't Learn From Their Mistakes "
So start watching other founders. Look for indications of one leadership type or the other. It's easier to assess others than yourself, so start here. Make it an ongoing observation, not a one-time research project, by subscribing to publications like First Round Review, Stratechery, and Strictly VC.
Then, be radically honest with yourself: Which type of entrepreneur do you most resemble?
Assess your motives
Now that you know what to look for in yourself, you can determine whether you're in a mental, emotional, and financial position to start a new venture.
Red light: 3 Bad reasons to start a new venture
1. Boredom
Don't start a new business because you're bored with your current behind-the-scenes product or service. As you know, "unsexy" niches are often more lucrative. Services that support other businesses, like legal, supply chain, HR, and back-end technology, have enormous potential and attract serious investors. If you crave the excitement of the spotlight, new business ventures won't fill that desire.
2. Lack of Fulfilment
Another bad reason to start a new venture is the discomfort that comes with previous success. If your current venture is growing faster than you'd anticipated or wanted, it's tempting to eyeball a new business as an out.
3. Fund a failing business
We've also seen entrepreneurs launch new businesses to escape cash-flow problems they're experiencing in their current company. Among all the faulty reasons to start a new venture, this is the easiest to fix. In fact, you can get started now by scheduling a free 30-minute consultation with a CFO to help you build your cash reserves and increase your profit margins.
Green light: Strategic reasons to start another venture
1. Repeat a recipe for success
Other motivations serve as a strong foundation for a new business. For example, you want to do the same thing again — but, this time, better or for a different buyer segment.
This impetus manifests when a business owner wants to scrap a business to start from scratch with a stronger foundation.
2. Build a better organization
"Repeat founders tend to be further up the learning curve on team building and organizational design and culture," explains Rob Go, cofounder and partner at venture capitalist group NextView.
"I find a lot of founders realize that they did not optimize for culture and team quality the first time around, and so this is their chance to do things right."
3. Scale a High-Performing Product
Another common (and good) inspiration is when one revenue stream outperforms another. Twitch was born out of Justin.tv, the original "lifecasting" site. The original idea was eventually abandoned so the founders could focus on growing Twitch.
That's not a distraction. It's agility.
Docker is another great example. Early on, dotCloud developers had the idea to launch Docker. The new program eventually cannibalized its predecessor, dotCloud (which was sold and eventually shuttered).
Finally, you may want to start a new version of a previous venture that fizzled, if the passion's still there.
"With repeat founders, you should test for passion," says Naval Ravikant, founder of AngelList.
"When the going gets tough, will they see the company all the way through—or will they go start the next thing? Do they have conviction? Do they have the humility to go through it again, starting from scratch?"
Build a business that empowers your startup spirit
Your first priority is to build one sustainable venture. Then, with that humming, you can enable unlimited experiments.
Understand founder-market fit (FMF)
Most entrepreneurs (rightly) focus on PMF ("product-market fit"). But true founder potential lies in FMF. Founder-market fit is the combination of deep industry expertise and passion. Investor Peter Thiel says founders also need to possess secrets, not problem-solving acumen. In other words, the need to have hidden knowledge that others are missing.
To start thinking this way, take advice from successful repeat founder Tikhon Bernstam:
"A great way to find startup ideas is to look at the Inc. 500 magazine."
Bernstam advises, "It shows the fastest-growing startups in terms of revenue, like say year over year, or over three years. And then just look at those markets, and see if you have a founder market fit in any of them. Do you know any of those markets really well?"
Know when to exit
Next, read up on how to either manage multiple businesses or withdraw from one to start another. Learn about how one business entity can house multiple brands. Then, get familiar with common exit strategies. You can either transfer ownership of your original business to a family member, execute an employee stock ownership ("ESOP") program, or consider a buyout.
Plan to use your experience as a springboard. According to research conducted by Andrew Vasylyk, host of the Startup Exits Podcast host, four out of five VCs and angel investors said they'd bet $1 million on five experienced ("previously exited") founders over 50 inexperienced founders.
Investors who commit capital to experienced founders make more money.

Consider partnering up
Businesses with co-founders outperform those with solo leaders by 163%. Not only will you be able to share the workload, you will also get a unique skill set.
A cofounder isn't your only partnership option. Partner with an outsourced financial advisor for crystal-clear accounting insights and the decision-making power that results from that visibility
Repeat successes, not mistakes
If every new endeavor proved successful, then many more entrepreneurs would be serial entrepreneurs. Sadly, the combination of unknown risk and existing duties holds back many would-be repeat founders. We think that's tragic because help from an Ignite Spot financial expert can help mitigate both factors. Our virtual CFO services help you crystallize the risk and understand your current duties so that you can untangle yourself from both and possibly start a new vertical or venture. Call us today to speak with a virtual CFO.