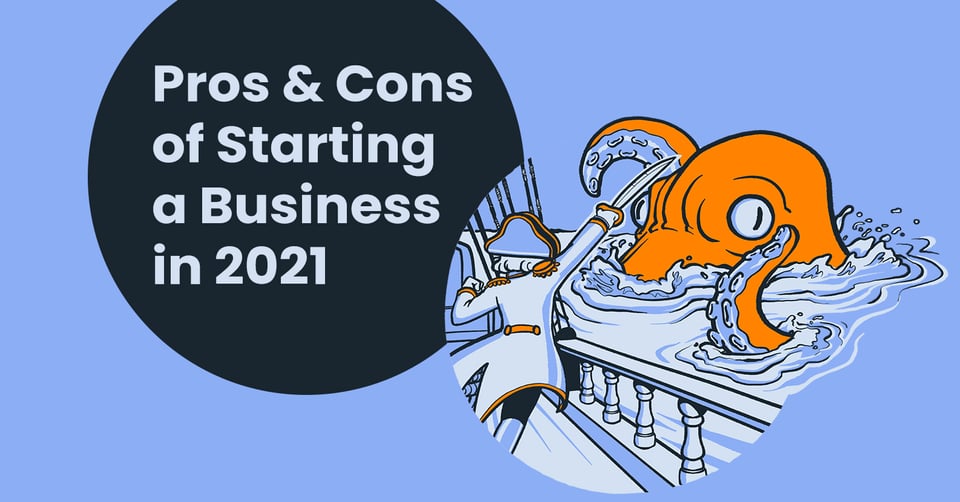 In 2020, becoming a business owner was the last thing on people's minds. Right?
Wrong.
Americans applied for over 1.5 million new business licenses in Q3 of 2020, a 77% increase from previous quarters.
Source: U.S. Census data
Clearly, people are launching new ventures now more than ever before.
If you think that now may be the best time to start a business, you should know what's working for — and against — your launch.
Why start a business now?
When the pandemic's dust settles, some new business owners will look back at 2021 and feel they seized on the perfect time to start their venture. Here are a few reasons why.
Supply is low, demand is up
Both struggling and closed businesses have created a void. Forbes reports that nearly half of all small businesses may close permanently as the second and third wave of Covid-19 cases and subsequent restrictions take hold.
Source: Alignable via Forbes
Sadly, no one knows how long the pain will last for these small businesses. A new poll conducted by the U.S. Chamber of Commerce and MetLife found that 62% of business owners believe the worst is still coming.
"We are sorry that we had to close," laments the owners of Nook & Cranny gift shop in Islip, New York. "But with all the chaos going on in the world these days, it has been the best decision."
Meanwhile, consumers still crave services like haircuts, food prep, lawn care, house maintenance, beauty treatments, exercise, and entertainment. Entrepreneurs have seen the need and are stepping up to meet it. They're addressing the unfilled consumer demand as well as brand-new consumer needs that have arisen out of the pandemic. And, admirably, they're launching businesses to replace or supplement their own impacted income.
For example, Ian Oestreich from Wisconsin was laid off early in the global health crisis. So, in March 2020, he started Curbside Bicycles, a mobile bike-repair shop, tuning neighbors' bikes for less money (and hassle) than local brick-and-mortar establishments. In no time, he'd landed hundreds of jobs, hired employees, and partnered with other local businesses to continue scaling up.
Others are using Foodnome, a marketplace helping home cooks prepare and sell their unique meals to local foodies. Home cook Vija V. is one of them, whipping up soul food for locals in Moreno Valley, California.
"OMG the FLAVORS!" gushes one of her customers in an online review. "I love Vija the owner she brings a smile to my face I love her energy and her recipes."
Foodnome has seen a 59% MoM growth consistently throughout 2020 and shows no signs of slowing as more people learn how to find — or provide — certified home-cooked meals.
Having a safety net is so important, and starting a business is one good reason why. When things go sideways, you can provide for yourself and others.
Consumers are "revenge spending"
Yes, some folks — around 39% of Americans — saved their stimulus checks. But others are partaking in what some experts call "revenge spending." New businesses can cash in on this trend.
Consumers want retail therapy — a counterbalance to the doom and gloom. China and South Korea luxury retail has rebounded, indicating people representing the "top arm" of the K-shaped recovery may save now and splurge soon, when going out becomes safer.
McKinsey calls this "exuberant consumerism." Whatever you choose to call it, you'll operate at an advantage if your envisioned business model serves this segment.
Be the captain of your fate
Some un- and underemployed people have voluntarily begun a new life as a business owner, over the uncertainty of employer instability.
Among workers, 68% said that general (perceived) employer mistreatment during the pandemic had incited them to consider leaving their job.
Trader Joe's leaders experienced this firsthand. In April 2020, the grocer made headlines — and not the good kind. The brand made subpar efforts to protect its frontline workers from the novel coronavirus, drawing criticism. Quickly, the company turned things around and, within two months, had earned a spot among the top three retailers on Ipsos' Consumer Health & Safety Index. Sadly, the fumble had cost the retailer valuable, talented employees.
Instead of despairing, many of these trailblazers became business owners. Nick Wolny is a prime example of this, quitting his job mid-pandemic and selling his knowledge online. And so is Fortune magazine's (now former) editor Polina Marinova, who bid adieu to her powerful, high-profile gig in the spring of 2020 to start her own thing.
These fearless leaders make up the next generation of employer firms. According to The Economist, the 2008 recession prompted a decline in high-propensity business applications (that is, formations of entities likely to become employers). By contrast, this year's entrepreneurs are starting ventures that appear to be future employers:
Source: The Economist
Starting a business now lets you determine your own trajectory and establish your own corporate culture from the start. You'll be the captain of your own fate.
Tip: Be sure to include "bravery" among your corporate values, because it's true.
Cons to starting a business in 2021
Knowing the potential challenges of becoming a business owner in 2021 helps you sidestep, manage, or — in some cases — prevent them.
Economic uncertainty
The great destabilization of 2020 has created ideal conditions for the launch of some small businesses, as we've seen above. But one unnerving factor to weigh is our economy's ongoing agony. Spending is impossible to predict because consumer sentiment is precarious. The most optimistic signals reflect the most affluent and well-positioned segments, not all consumers.
"More so now than ever, I would say, we see the effect of the stock market just not representing all of the economy," said Wharton finance professor Itay Goldstein, in a recent podcast episode (emphasis added). "The people that are hurting the most are not represented in the stock market."
Beyond your target market, the economy also affects your supply chain, and thus, your margins. There's no predicting how global suppliers and vendors will respond to events as they develop. Before the lockdowns even began in the U.S., 75% of companies said they were impacted by pandemic-related supply-chain disruptions.
Your market may not be ready
Some new business ideas require other ideas (or behaviors) to be established first. Ron Adner and Rahul Kapoor first wrote of this dependency in HBR's "Right Tech, Wrong Time" saying that great innovations can (and often do) fail if the "ecosystem" is unready.
This could mean your customers aren't equipped to use your product yet. Or they can't even fathom wanting it.
For example, General Motors' EV1, the first-ever mass-produced electric car, was scrapped because it went less than 100 miles on a charge — and charging stations didn't exist yet.
Or take Maxwell House, which tried to sell pre-brewed refrigerated liquid coffee in grocery stores in 1990. The venture was a massive failure. Today, though, a similar concept — prepackaged cold brew — is exploding.
Source: Statista "Size of the cold brew coffee market in the United States from 2015 to 2025(in million U.S. dollars)"
This all means that if, for instance, you want to launch a commercial office cleaning business, then you must consider the interdependencies working both for and against you:
• On one hand, so few in-office workers are on-site right now, so demand may be low.

• On the other hand, every place of business wants extra cleanliness right now, which may provide you with the perfect, lemon-scented niche.
As you consider becoming a business owner, look beyond the obvious and traditional market indicators. Launch only when your target buyer's whole ecosystem facilitates a purchase.
History doesn't predict future success
Another reason to beware is because the events of 2020 and 2021 have rendered historical data unhelpful. You see, in previous years, entrepreneurs would simply look at earlier years as part of market research. Now, though, we can no longer trust confident claims about "how consumers behave."
"Many data models that banks and credit unions have been using are pulling data from the last decade which doesn't reflect the current economic environment," writes Stephanie Butler, business process consulting team lead and director of advisory services for Baker Hill. She's discussing the analysis of credit risk, a key economic indicator. "Change has been constant throughout 2020, rendering many of our traditional data sources obsolete quickly."
One way to gain a foothold amid this potential pitfall is by engaging an outsourced accountant to assess your real-time market for you.
Accountants have always been known as the keepers of information reliability. The right accountant will conduct a market evaluation for you that serves as the basis of a successful business plan.
So, is now the best time to become a business owner?
Clearly, new business owners are in a unique position. If "unprecedented" was 2020's word of the year, that leaves hopeful entrepreneurs in a never-before-experienced position of both huge opportunity and genuine risk.

Whether you're starting a business or scaling your current venture, having an accountant who helps you automate your bookkeeping processes and advises you on monthly reports can transform your business. Create a profitable business that gives you the freedom to invest in growth. Learn how our expert accountants can help.