In the early 2000's, Vladimir Gendelman was working in his computer repair shop when a customer came in with a very specific request. He wanted folders that were customized for his business.
Piece of cake, right? But when Gendelman started looking around for options, there was a surprising lack of choices.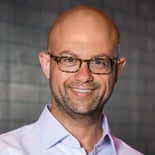 "I researched similar products to see what was already out there, but didn't find anything exceptional," Gendelman says. "This gave me the idea to start my company."
Gendelman took the personalized folder idea and ran with it, launching custom folder and office supplier Company Folders in 2003.
Having grown up in the Soviet Union, Gendelman was accustomed to a business world where choices were few and service was lackluster at best.
"This is why it was important for me to provide a variety of options and amazing customer service," he says.
It was on these principles that he founded his company. He launched a website and soon was officially open for business.
Creative Funding
Simply hanging his virtual 'open for business' sign was one matter; funding the company was another one entirely.
Here at Ignite Spot, we're big proponents of self-funding as the first choice for entrepreneurs, to be pursued before taking investments or borrowing from a lender. Thought Gendelman didn't have much capital to his name, he came up with a creative funding strategy that relied on neither investors nor high-interest loans: he used $50,000 in no-interest cash advances from several credit cards.
Related: How To Start A Business With No Money
"I kept a spreadsheet to track the balances, payments and deadlines of the promotional periods," he says. "Whenever I would near the end of a promotional period, I transferred the balance to another card."
While this strategy could be risky if one lost track of payments or deadlines, Gendleman paid off all of the balances in less than six years—without paying any interest.
An SEO Setback
Like many businesses in the early 2000's, Company Folders built its traffic by employing an SEO-first strategy for online marketing. Gendelman and his team focused on building links to as many websites as possible, which resulted in high rankings for industry-related keywords on Google.
This strategy paid off for many years, with traffic and sales increasing annually. In 2012, though, Company Folders took a hit that many online business owners are all-too-familiar with.
"Google updated its algorithms, examining link quality over quantity," Gendelman says. "We were penalized, and our website traffic dropped nearly 65% in weeks."
Suddenly and unexpectedly, the company was nearly bankrupt.
Instead of calling it quits as many might have done, Gendelman turned to his team for advice and ideas. The company changed its approach to focus on the emerging strategies of content marketing and social media marketing.
They also created a blog. Though it's no longer a new strategy, blogging is still one of the most effective ways for a company to drive traffic. According to Hubspot, B2B companies that blogged 11 or more times per month received almost three times as much traffic as companies that either never blogged or only published one post.
In addition to launching a blog, Company Folders rounded out its new digital strategy with an online print design gallery, which became popular with customers and graphic designers.
"We established ourselves as thought leaders in the industry, and our Google traffic has been steadily increasing ever since," Gendelman says. "There were times when I thought of throwing in the towel, but I thought, 'the longer I hang on, the more I will learn.'"
High-Profile Recognition
Within a few years, Company Folders' revamped approach to marketing was paying off. In 2015, the company nabbed a spot on Inc.'s list of the 5,000 fastest growing private companies in America, a slot it would continue to hold in 2016 and 2017.
Another noteworthy company achievement came with some high-profile silver screen connections. Company Folders was the firm tasked with creating the press kit used to announce the movie "Salt" starring Angelina Jolie.
"We created the press kit that housed all the documentation that went with it," Gendelman said in an interview with Promodo. "It was really a fun project to work on."
The blue-chip businesses on Company Folders' client list include Hershey's, Bed Bath & Beyond, Sony, and Ford, just to name a few. Gendelman often authors pieces on the print and design industry for outlets like MarketingsProfs and Forbes.
The company's annual revenue stands at $3 million—quite an achievement for a company built on the modest paper folder. It employs 11 team members.
Looking Ahead
Gendelman says in the next five years, he'd like to once again re-examine the company's online strategy, starting with its own web design.
"[I want to] completely revamp our website to provide an unparalleled user experience in our niche and expand our product line beyond folders and binders to become a leader in the industry of presentation products," he says.
From the brink of bankruptcy to multi-millions in annual revenue, Gendelman says he couldn't have done it without setting clear goals and boundaries for his company.
"Determine what your business will and won't do so that you can stay focused and not jump on every passing opportunity that sounds good," he says. "There were times when I wanted to give up, but I pushed forward to achieve my dream."
Get weekly stories from entrepreneurs to help you build your business, lead your team and make more money. Subscribe below!
You Might Also Like...
This Entrepreneur Built A Business On Preserving The Chicago Skyline
Client Spotlight: How This Entrepreneurial Power Couple Sparked A Fitness Revolution