Tahnee Elliot was working as a receptionist at a law firm while finishing up college when she asked her boss for time off for spring break. The answer would change the course of her career.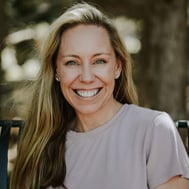 "They said no," Elliot remembers. "I said, 'well, having a boss isn't for me.'"
Her mother, an artist, was looking for a gallery space in the downtown district of Lubbock in Western Texas, where Elliot went to school. She decided to split the rent with her mom and take over the space as a boutique during the slow daytime hours. By day, Elliot rolled out racks and sold young women's clothing. By night, they'd move all the clothing out and run the art gallery.
This was the year 2000, well before mixed-use spaces had started to become mainstream, but the concept caught on.
"I got in with a lot of the college girls. I was basically the same age as them," says Elliot, who was 24 at the time. "It grew from there."
Elliot called her boutique TC Elli's, and within a few years it was popular enough to warrant its own dedicated storefront. She moved the business to a busy retail and dining district near the university, where the young shop thrived among the fashion-forward co-eds.
"Business was booming," she says. "Then the recession hit."
Difficult Decisions
The recession was universally difficult for entrepreneurs, an economic event that caused many to throw in the towel either by necessity or exhaustion. According to the most recent census, the U.S. economy lost nearly 200,000 small businesses between 2008 and 2010.
For TC Elli's, business dropped off sharply starting in April of 2008 (in Elliot's words, "within a month everything came to a screeching halt"). Elliot knew she had some tough decisions ahead.
"My husband and I spent a few months considering what to do," she says. "We had been in business for nine years at that point, and when it's been that long and you've poured your heart and soul into something, it's not an easy decision. I wanted to be at the top of my game when I quit."
Elliot and her husband decided TC Elli's was worth going all-in. They sold their house to help keep the business afloat. Elliot ran the business singlehandedly, bringing her two small children to the shop with her during the day and putting in more hours at night after her husband got home from his job.
TC Elli's changed its marketing strategy, lowered its price points and, essentially, started from scratch.
"I thought, 'we just have to give it everything before we decide to get out.' Not giving up is part of my soul."
Elliot stuck it out and within a few years, things were moving again. By 2012, it was time to take the business to the next level.
Related: Enabling Better Decision Making With Hōm Korean Kitchen
Going Digital
What happened in 2012? Well, for one thing, a major milestone in online shopping. It was the year the global e-commerce market surpassed $1 trillion. Everyone, it seemed, was doing their shopping online.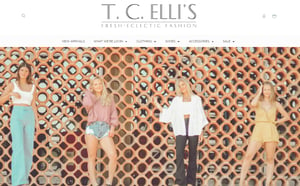 TC Elli's hopped onboard the digital trend and opened its online store nationwide. Elliot hired an SEO company, which showed her how to take advantage of organic traffic and social media.
"Things grew, slowly at first, but around the four-year mark of the online store we'd really reached the national audience," she says.
The transition to selling online wasn't as simple as merely listing the store's inventory on a website, though. The digital customer, Elliot learned, had a different sense of style and preferred different products than her brick-and-mortar shoppers in Lubbock.
"They're picking completely different items from what we sell out in the store," she says. "The customers that buy online are more fashion forward, trendy, edgy. The girls that shop in the store are a little more conservative."
This meant inventory management was more important than ever before. Elliot admits there was a learning curve balancing product in versus product out.
"I had no business background when I started, so I didn't know how to read a balance sheet, I didn't know what a profit and loss was," she says. "Managing how much we're buying versus how much we're selling is an ongoing challenge. It's taken me 10 years to learn."
Related: Small Business Accounting: How to Calculate Key Financial Ratios
Managing Vs. Mentoring
Today, TC Elli's nets six figures in annual revenue from online sales alone. The physical storefront is run by Elliot and her husband, with the help of about two dozen part-time employees. Most of the part-timers are college students, like Elliot was when she first started.
Managing them effectively, she says, requires a delicate balance between discipline and mentorship.
"For many of them it's their first job," she says. "We teach them things like merchandising and using the software, but also things like how to dress professionally and how to interact with people. It's a lot of work, but it's preparing them for something bigger and better in their lives."
She hopes many of them will also go on to become entrepreneurs, despite the unique challenges that come along with the profession.
After 18 years in business, Elliot confidently says opening her own business was one of the best decisions she's made. She says her best advice for new business owners is to take the spark of energy that's fueling your business and use it like a magnet to attract customers.
"There's something about that energy entrepreneurs have when they first start the business," she says. "Show that to the world and to your customers. The enthusiasm will rub off."
"Also, know that it's a ride. Opening a business is like a floating balloon—you just have to grab on and let it take you. It's going to be hard and a whole lot of work, but it's worth it for sure."
From managing your team to making more money, get weekly insights delivered to your inbox! Subscribe to our blog by clicking below.
You Might Also Like...
7 Entrepreneurs Who Were Broke When They Started
How This Developer Grew Her Traffic By 3,000 Percent In Three Months