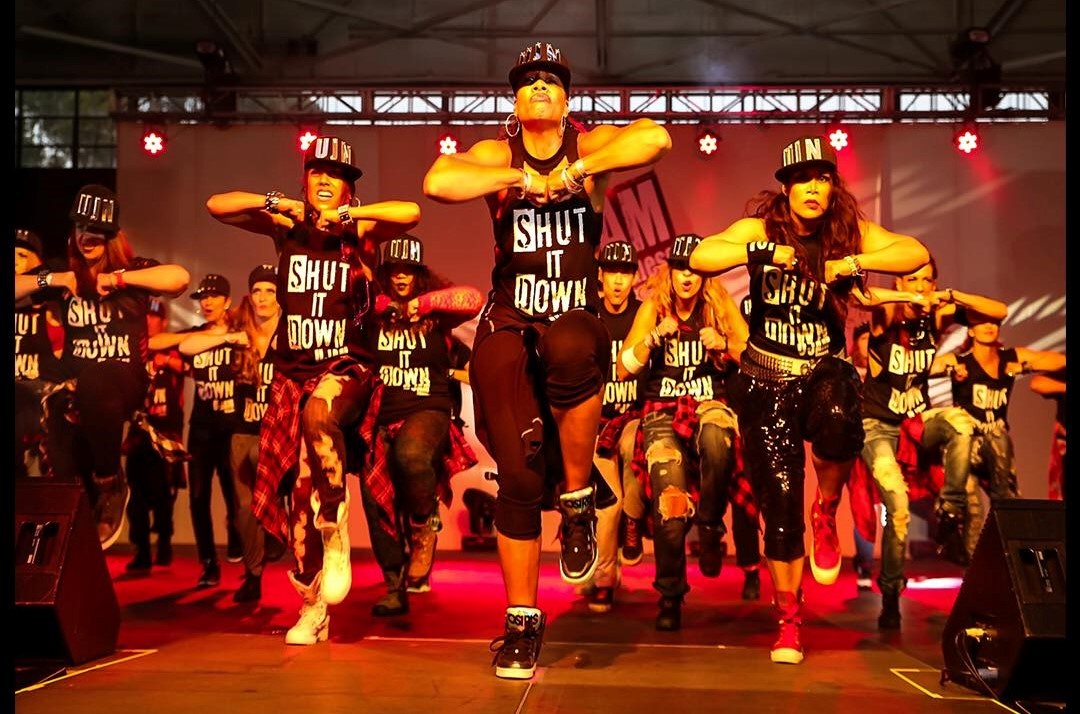 In the early 2000's Matt Marks was following the path many budding entrepreneurs take: working full time (in his case, sales and marketing) while pursuing his passion project—DJing at local nightclubs and events—on the side.
It was around that time he met the woman who would one day become his wife, a popular fitness instructor named Susy C who was known all over the area for her high-energy Zumba classes and addictive choreography.
From the start, it was a match made in musical heaven.
"There I am in the back of her class, and I said, 'what if we threw some old school in there?'" Matt remembers. "So we put an old song in and the crowd went, 'OHHHHH!' It felt just like a nightclub."
The energy was electric. Matt and Susy knew they'd discovered something good.
Dancing Up A Sweat
From then on, Matt joined Susy at all her events, bringing his turntables and lighting kits to create a club-like atmosphere.
While Matt cranked out custom-edited mixes, the students danced their hearts out to Susy's choreography, breaking a sweat but more importantly, having a blast.
"The whole response was pretty magical," Matt says. "People would walk by and look in and say, 'what's going on in there?' They responded really well to the vibe."
In January of 2010, Matt and Susy created an official brand for their urban dance workout concept and formally launched U-Jam Fitness.
Growing Pains
As Susy's classes and following grew, U-Jam added instructors and staff members to accommodate the demand. The company was taking off, but as every seasoned entrepreneur knows, that comes with growing pains, particularly in the financial department.
"There were three things we were lacking: knowledge, time and money," Matt says.
U-Jam was working with a local company to manage their accounting. Matt says they did a good job but were expensive and came with a cookie-cutter feel.
One day, some internet research brought him to Ignite Spot's outsourced accounting services. Matt promptly booked a video call with the team (we love using video conferencing to meet prospective clients!).
"We got to meet on this video chat, and it was way more personable than on the phone," Matt remembers. "We decided to do a test run for a month, and the interaction was amazing."
From there, U-Jam became a steady Ignite Spot client. Our team immediately got to work cleaning up their books and taking steps to help Matt and Susy's business as profitable as possible.
A Financial Spring Cleaning
The first thing we did was an overhaul of U-Jam's accounting processes to make sure the books were spic and span.
"They had some messy accounts that are not necessary for their accounting and had balances that were not consistent," says Ignite Spot Account Manager Guy Morrison. "We reviewed and cleaned up the accounts to make sure the data was being presented correctly."
Next, we discussed with Matt the details and data that were essential to record regularly in order to get an accurate financial picture of the business.
"They made suggestions to improve our flow from P& to cash flow statements, and they video conference with us every month and go over the books and the trends they're seeing," Matt says. "We're loving the guidance. They're almost a financial advisor to a certain extent."
The final piece of the puzzle was transitioning all U-Jam's bookkeeping to our preferred systems, including QuickBooks. We love QuickBooks because it takes the guesswork out of all your bookkeeping processes and allows you to manage payroll, track expenses, send invoices, generate reports and more, all in one place.
Related: FAQ About QuickBooks Online Bookkeeping
"It's a big time and money saver for us," Matt says.
A Lasting Partnership
Marriage and business partnership are perhaps two of the most challenging unions a person can enter. For Matt and Susy, they're one in the same.
According to the Business Families Foundation, U-Jam Fitness is among some 1.2 million small businesses in the U.S. that are owned by a couple—around 14% of all small businesses.
While rewarding, the marriage-business partnership isn't always an easy one to navigate. Matt says he and Susy make it work by keeping some aspects of their relationship completely separate from the business.
"We take a break and work out together and try to take time away from the grind every day," he says. "We inspire each other and try not to grind our minds too much."
Matt says learning to delegate has also been key to helping the couple keep their sanity as business partners. Not only that, it's a key component of scaling the business.
"The more we can do that, the quicker the company is going to grow."
Global Goals
Though U-Jam's primary base is in California, it now offers its signature high-energy, club-style workouts at locations across the United States and in Australia.
Within the next five years, Matt hopes to expand the brand around the world.
"We're putting the right people and partners in place to help us get there," he says. "We'll be a name to be reckoned with in the fitness industry."
What about the entrepreneurial slump? Does the couple ever lose their drive to continue investing in the business they've worked so hard to build? Matt says it's something they've actively worked to avoid.
"People say by the 6th or 7th year the passion starts to fade," Matt says. "We've had to switch some things up and have taken a few hits for it, but now we're starting to see that hockey stick."
He's referring to a common term used to describe the growth pattern for startups; growth is often flat or even negative before a tipping point where things spike upward, similar to the shape of a hockey stick.
It's not just business growth he hopes for, though. He also looks forward to extending U-Jam's warm, welcoming, health-minded community to more and more people.
"It's self-healing, the music and the choreo together," he says. "It's about acceptance, diversity, helping each other out. The next five years are going to be really fun and we can't wait."
Do you know where your business stands financially? Download our free cash flow forecast tool below and get informed to make better decisions!
You Might Also Like...
How A New E-Commerce Shop Improved Its Margins By 40%
Client Spotlight: This Entrepreneur Built A Business Turning Music Education On Its Head