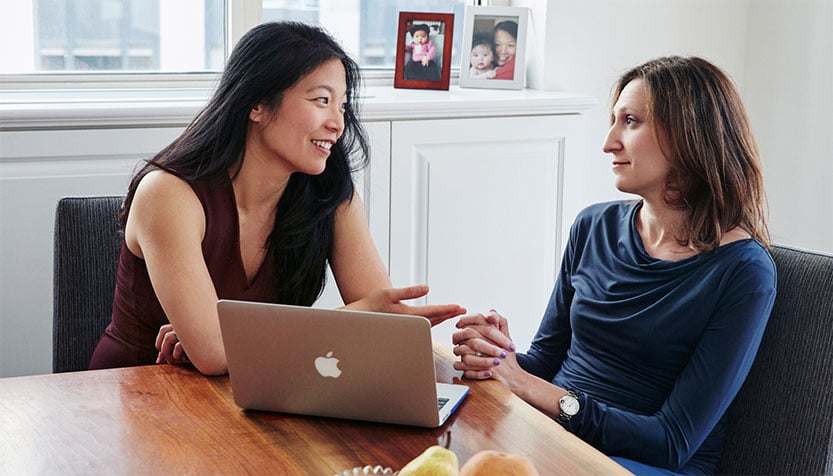 In 2014, Georgene Huang was the picture of what most women would describe as "having it all." She was the head of enterprise business for one of the world's largest financial information companies. Her resume was peppered with leadership roles at such prestigious companies as Lehman Brothers and Bloomberg, as well as degrees from Cornell and Stanford Universities.
Huang's professional life came to a screeching halt, though, during a management shakeup in which she was abruptly let go. And she and something else on her mind—something big. She was two months pregnant.
The Tough Questions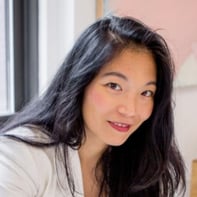 Interviewing for a new job after being laid off is tough enough on its own. It's even more difficult when you're expecting.
In Huang's case, she hadn't yet shared the news publicly, and definitely wasn't eager to share it with prospective employers. Still, there were tough questions she needed answers to if she was going to make the right career choice to support her growing family.
"I found myself in interviews wanting to know more than ever the answer to those hard-to-ask questions on maternity leave, work-life balance and other women in senior management," Huang says.
It's a conundrum faced by many mothers-to-be. Despite the Pregnancy Discrimination Act of 1978 which says women cannot be passed over for a job, demoted or fired simply for being pregnant or likely to become prgenant, pregnancy discrimination persists as a problem in the American workplace.
According to a 2016 report from the National Partnership for Women and Families, nearly 31,000 charges of pregnancy discrimination were filed with the U.S. Equal Employment Opportunity Commission and other state-level agencies between 2010 and 2015. Even as the years progressed, the number of charges filed held steady from year to year.
The report found that pregnancy discrimination was reported by women across industries, races and ethnicities, and in all 50 states.
Hiring managers themselves recognize the problem; according to a survey of 500 managers, more than 40% reported feelings of wariness about hiring a woman of childbearing age because she might become pregnant. A quarter of them said they'd prefer to simply hire a man to avoid potentially dealing with maternity leave and child care in the case their new employee did become pregnant.
And if a new mom does choose to return to work after a baby, there are problems on the other side, too. A 2015 report conducted in the UK found that one in nine new mothers had 'been dismissed, made compulsorily redundant or treated so poorly they had to quit their job' after returning to work as a mom.
There's been significant progress since the implementation of the Family and Medical Leave Act, which entitles new moms to up to 12 weeks of leave (albeit unpaid) after giving birth. Prior to this legislation, many new moms were returning to work mere weeks after having their babies for fear they'd lose their job. But the numbers show there's still a long way to go.
A Community Is Born
While studies like the ones cited above show that pregnancy and maternity discrimination is, in fact, a pervasive problem, most companies would—for obvious reasons—have employment candidates believe their culture is immune to such things.
As Huang learned firsthand during her job search, lack of transparency is one of the biggest stumbling blocks when it comes to this issue.
"I didn't know whether I could trust company PR about being 'female friendly' and couldn't find maternity leave policies," she says. "I thought it should be easier to get this information."
So, she did what most of us would do and turned to the internet. Still, she found traditional job-seeker information sites like Glassdoor lacked many of the key pieces of information new mothers cared about.
She decided to take matters into her own hands.
Huang envisioned a community where all of the tough questions female job seekers have are answered right out in the open—a place for women to share their workplace experiences and the real scoop on benefits, culture and policies at various companies. That's how Fairygodboss was—excuse the pun—born. She runs it today with partner Romy Newman, also a young mother.
The founders began to spread the word about their new venture, and, given their deep professional networks and prior job experiences, it didn't take long to grow.
"It largely started through word of mouth," Huang says, "but we've been able to effectively use social media, press efforts, content and partnerships as a way to connect with more women."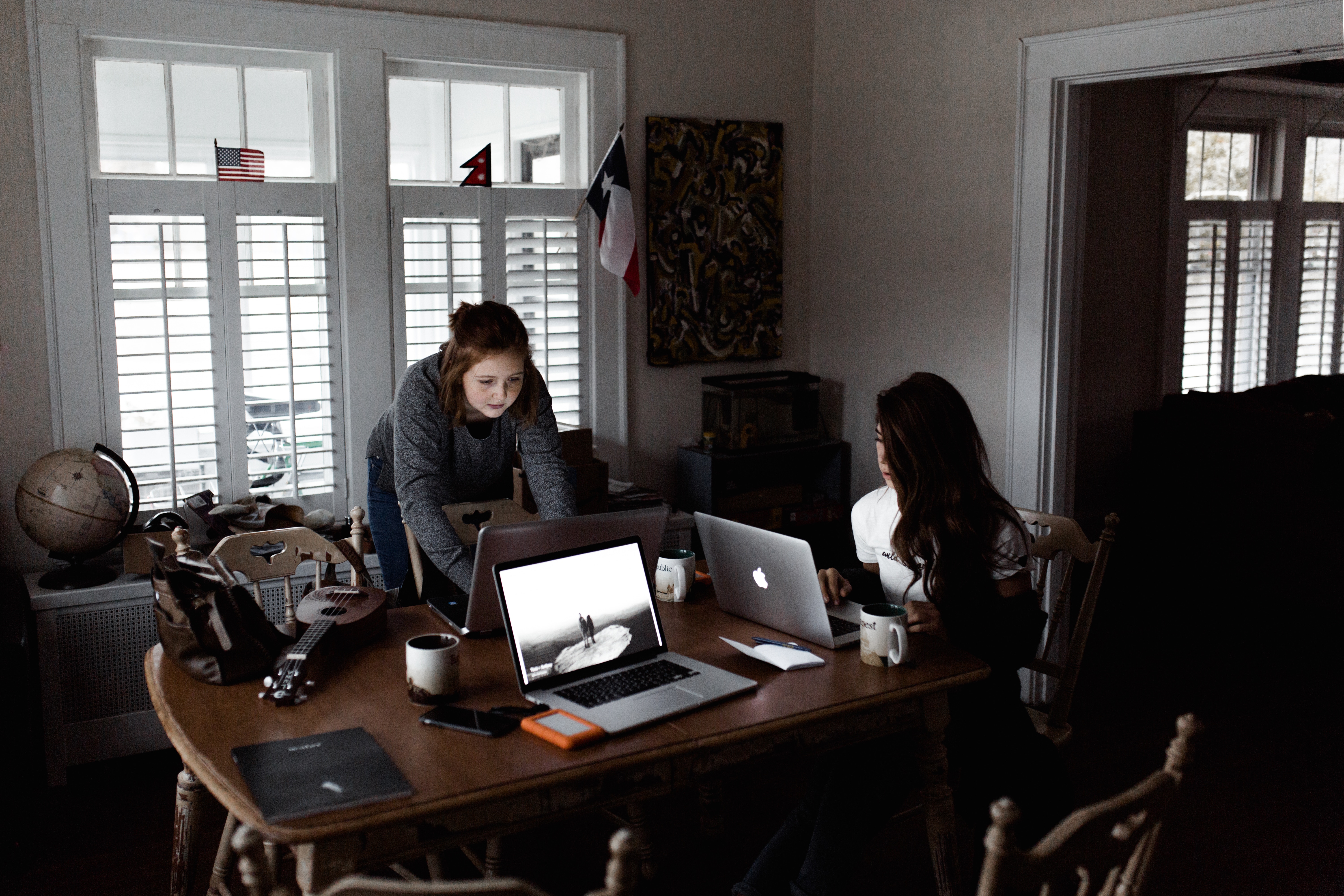 Building A Safe Space
Fairygodboss.com has evolved into a female job seeker's safe space. On the site, which is made up of reviews and helpful articles by real women, users will find transparent, up front information on factors like job satisfaction, gender equality, maternity policies and more about some of the most prominent employers.
The reviews are refreshingly honest, like "you must be willing to work twice as hard for half the recognition" (The Walt Disney Company) and "I manage to leave the office 'early' at six o'clock but end up working from my blackberry" (Goldman Sachs).
But it's not all bad news, either. Women who are part of the Fairygodboss community also share triumphs, like seeing more women move into upper management roles and finding helpful mentors who provide invaluable guidance.
Since its 2015 launch, the site has expanded rapidly, growing from 100,000 visitors to one million visitors between 2017 and 2018 alone.
"We have more than 50 employer partners we work with as well, and are continuing to grow that number," Huang says.
In addition to providing resources for professional women, the company works with Fortune 500 companies to help create transparency and to support their efforts to improve the workplace for women.
Moving The Needle
Though her company was born out of her own job search frustrations, Huang says it's a sign women are making strides forward.
"Our generation has access to unprecedented amounts of information and are more digitally connected than any other generation," she told Motherly Media. "This means we expect and demand transparency and will make decisions based on more information."
She says mothers in particular have a unique approach to becoming entrepreneurs, and it's something to embrace rather than to fight.
"Moms can be more risk-averse because they understandably have very important responsibilities and obligations (i.e. their families) to protect. I think it's important to stage your risk-taking and be independent about your timeline for building a business, if at all possible. Specifically, I believe you don't have to do things the way that other entrepreneurs do them. You have to forge your own path."
Read more weekly stories from real entrepreneurs about finding success, navigating hard times and making more money. Subscribe to our blog below!
You Might Also Like...
This Entrepreneur Came Back From The Brink Of Death And Succeeded
Client Spotlight: How This Executive Search Firm Scaled In A Highly Niche Field