2008 was a rough year for a lot of people. Zachary Rose was one of them.
On December 31, Rose was laid off from his job. The days that followed found him moving out of his apartment and crashing on a friend's couch, despondent and with few career prospects. So much for happy New Year, right?
"After about two weeks of moping, I got off my butt and started to brainstorm," Rose says. "I remembered that I had purchased some awesome domain names in my area of expertise, green building design."
At the time, it seemed like a long shot, but those URLs were one of the few assets Rose had to his name. He didn't know what the future would hold, but he did know how to build a website.
Zack Academy
As a licensed architect, Rose knew the ins and outs of green building design. He also knew it was a hot topic that others wanted to learn about.
He took his expertise and turned it into a seminar. Then, he used a $75 AdWords credit that was offered by his website CMS to promote it. To his disbelief, that $75 spent on AdWords yielded three seminar ticket sales.
"Each ticket was $300, so I was rolling in the dough!" he recalls.
Rose knew he was onto something. Within a month, he'd lined up a series of green building seminars in Miami and New York City, and they started to sell out. Zack Academy was born.
From there, Rose built out his course material, expanding to cover additional topics in construction and contracting. He upped his AdWords spend and used his credit card to foot the bill, confident in the return on his investment. As the business grew, he zeroed in on inbound marketing, focusing on getting in front of anyone who was searching for topics related to his courses.
"The bottom line is that I'm more interested in selling something to someone that is already looking for it," he says—a core tenet of inbound marketing.
By the fifth anniversary of his getting laid off, Rose had built himself a thriving new business. Zack Academy courses were consistently selling out, so he decided to open the floodgates and scale his business to a national level.
Related: Get Through Hard Times And Grow Your Business
Too Big, Too Fast
By 2013, Rose was in growth mode.
"We were flying high and selling out seminars like crazy, so my instinct was to launch more classes in more markets and just let things fall into place," he says. "Let me break this down in simple terms: it failed horribly."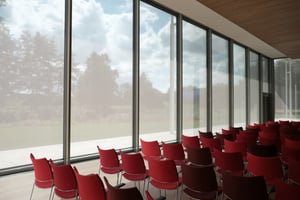 Up until that point, Rose's strategy was to book a training date in a city, reserve and pay for the space and resources ahead of time, and do his best to market and sell out the class.
But as he expanded, he found himself and his resources spread thin. Seminars were being held with just two or three students enrolled, which was nowhere near profitable. In fact, cash began going out the door at an alarming rate.
"We went from six figures in our bank account to just over $75," Rose says. "My back was against the wall, and I had to pivot or the business would die. There was simply no choice."
Rose came to a tough realization: in his effort to scale quickly, he'd been reckless and failed to do his research. There were already established training providers in most of the cities Zack Academy was trying to expand to, so it didn't make sense for Rose to bring in his own army of people and resources for every seminar.
He mulled it over carefully and decided to make a critical change to his business model. Why not use the existing training providers in different cities to teach and sell Zack Academy material, in exchange for the lion's share of the registration fees? Rose began reaching out to instructors around the country to float the idea.
"At first the calls were super awkward. 'Crash and burn' was an understatement," he remembers. "I worked on my pitch, refined it, and finally had it down to the point where I was seeing close to a 100% conversion rate in terms of trainers agreeing to join our network."
Related: This Company Grew Its Output By 150% With One Change To Its Business Model
Manageable Growth
Zack Academy's pivot changed the business for the better in two important ways. First, it allowed Rose to scale at a manageable, profitable pace. And second, it allowed him to step out of the 'instructor' role and instead truly focus on leading and growing his business as CEO.
Since the shift, the company has grown to a network of more than 500 instructors and 1,500 courses. In 2017, the company netted some $3.8 million in revenue.
Rose cautions other budding entrepreneurs against getting caught up in the 'fly-by-the-seat-of-your-pants' growth mentality that's glamorized by shows like Shark Tank and headlines about massive Silicon Valley IPOs.
"So many people see the glamour of the billion-dollar startups and feel that they need to just grow, grow, GROW," he says. "Instead, figure out how you can build a moat around the awesomeness you've already created."
In other words, if you've got a good thing going, figure out how to stabilize and protect it instead of shooting it full of growth hormones.
Rose clarifies that growth isn't a bad thing, but advises that getting too big can be just as much of a hindrance as staying small.
"If you can master the art of growing as a person while also making your business grow at a responsible and manageable pace, you'll know when to hit the brakes and maintain the correct size," he says. "Every business has its limits, and you need to put in the work to determine what that is."
Get weekly insights from real entrepreneurs about making more money, overcoming challenges and creating a lasting business. Subscribe to our blog below!
You Might Also Like...
An Accounting Error Almost Cost This Entrepreneur Everything. Here's How He Recovered
Client Spotlight: How BlueCrew Jobs Trimmed Costs And Landed A $14 Million Investment