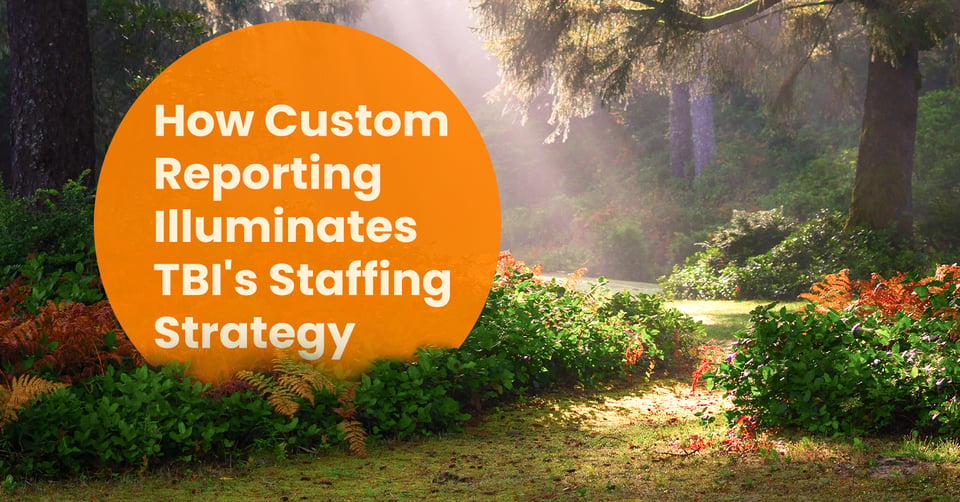 How much visibility into your business's finances do you have? New research from The Economist Intelligence Unit reveals that 60% of CFOs feel they don't have complete visibility into their organizations' transactions.
60% of CFOs feel they don't have complete visibility into their organizations' transactions.

Sadly, too many business owners operate while feeling financially blind. The good news is that outsourced accounting can shine a much-needed light onto an organization's finances. The illumination can empower leaders who must navigate a hazardous — and exciting — business landscape.
Nicola James and her husband, John Birch, are an example of this. Twenty-seven years ago, the duo established Thomas Brooke International (TBI), a retained executive search firm in the plastics and polymers industry. Nicola knows firsthand what it's like to grope for financial insights. She knew the best path for her business would be clear and feasible — if only she could see it.
For decades, the business leaders tentatively felt their way through the high-risk, high-reward world of executive search. Had they continued operating blindfolded, they never would have achieved the success they enjoy today.
TBI's complex business model required expertise and diligence
Nicola and John — like most small-business owners — knew that organized, accurate, up-to-date accounting could make a business. And the lack of the same can quickly break a business.
Sadly though, they didn't have the time or the expertise to administer their own books or prepare their own taxes.
"We really wanted to get better help with bookkeeping, taxes, payroll, the whole shebang," Nicola recalled.
"But there was this added element where if we wanted to hire, or really do anything at all, we were hampered by the fact that we really didn't know how to do all the accounting for it."
The duo knew that many business owners in this position were winging it, moving forward, and hoping for the best. Often, though, the results were disastrous. They wanted to avoid those common, costly, and even tragic mistakes.
"We were very concerned about going fast and loose, and potentially running into trouble," Nicola said. "So, we began looking for the right accounting team to help."
Factors complicating their books
The industry was — and still is growing. A survey conducted by Statista found that
30% of companies plan to increase their use of executive search firm services in the next year.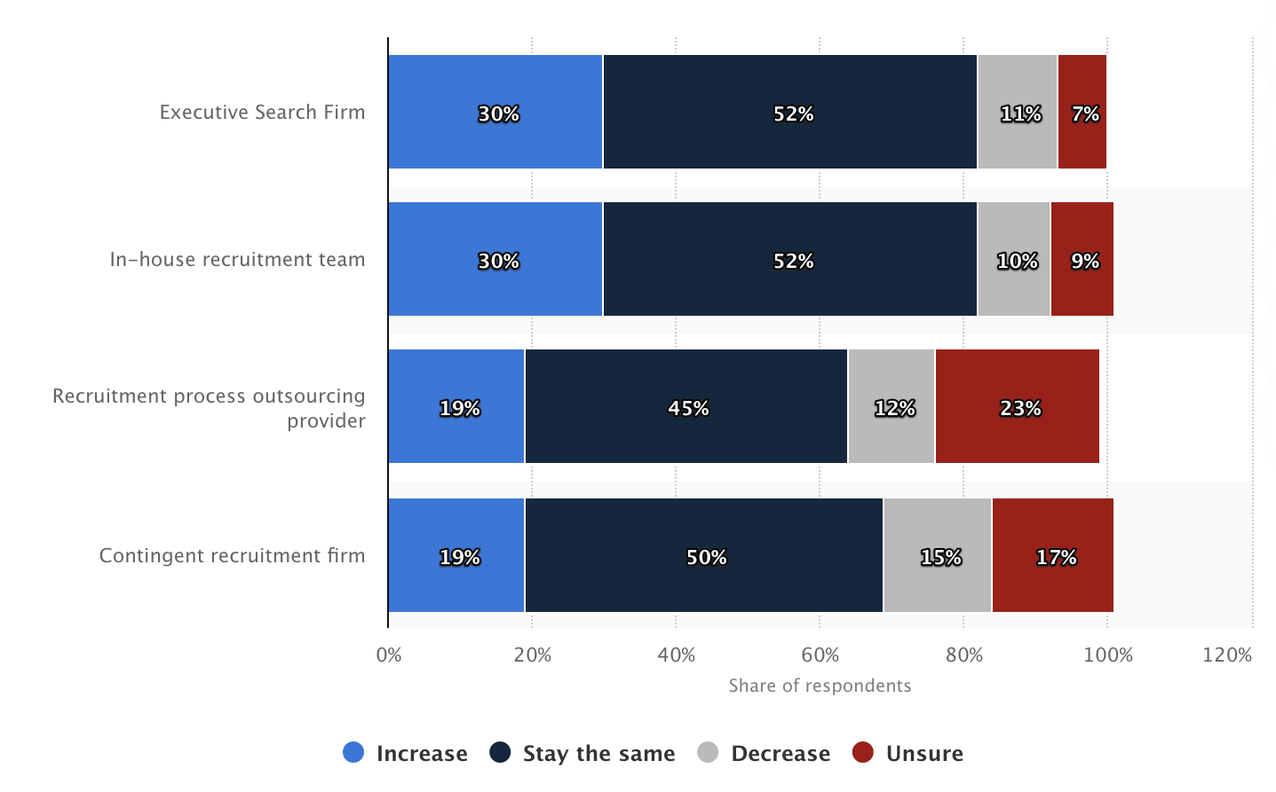 Source: Statista "Predicted change in demand in the next five years for executive search services worldwide in 2019, by service"
But the nature of the business was also complex. Many executive search firms work tirelessly at a steady pace, but their income reflects a massive influx followed by months of goose eggs. So Thomas Brooke International's revenue was dependable but wildly irregular.
To further complicate matters, Nicola and John had made a major capital investment, which entangled personal finances with business accounting. They wondered who could help them sort out their true tax obligations while ensuring they didn't overpay.
Leadership needed insights to execute an ambitious staffing strategy
Nicola knew the industry was ripe with opportunity. She also knew that her company was uniquely positioned and able to capitalize on what other firms saw as their top challenge of finding and connecting people with ultra-niche skills.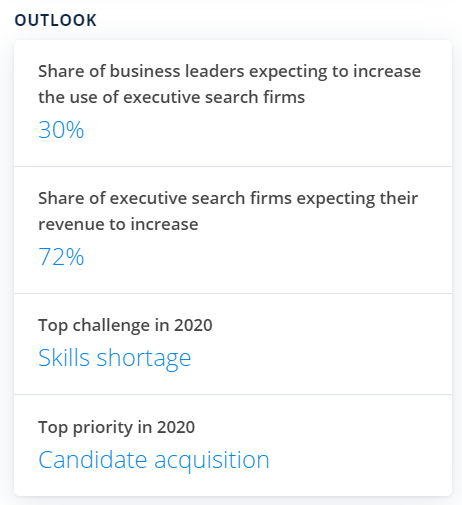 Source: Statista
To operate, though, the business owners had only two choices: move forward blindly, making unsubstantiated decisions; or simply stand still.
Staffing was a particular problem. Hire? Don't? Engage contractors? Bring W-2 employees on? Both? Thomas Brooke International's leaders couldn't intelligently decide without financial insights. The project-based irregular cadence of retained search made for tricky reporting.
Totals always looked skewed. In other words, the couple was trapped in a cycle of uncertainty and immobility.
The accountants they hired weren't up to the job, either
In their first 20 years in operation, Nicola estimated they'd gone through five or six accountants who promised regular reporting, smart tax strategies, and proactive service but delivered subpar results.
"Basically, they just didn't seem to grasp what we needed," she said. "They didn't understand our business, and they didn't really care to learn, to understand the unique business that we're in."
These accountants made more mistakes, which cost precious time and valuable capital (resources that were already tight).
The conundrum isn't uncommon. In fact,
30% of business owners believe they overpay in taxes.

For Thomas Brooke International, this trend was all too real. Overpaying in taxes year after year drained their hope for a solution.
John and Nicola needed an accountant who would listen and learn instead of applying the "same old" thinking of widget-based business models to Thomas Brooke International's unique business.
Ignite Spot shines a light on TBI's financials
Dejected, John found himself at square one, searching — this time online — for an outsourced accounting solution. Engaging, informative content from Ignite Spot appeared, and with it, a picture of friendly, competent and helpful accountants.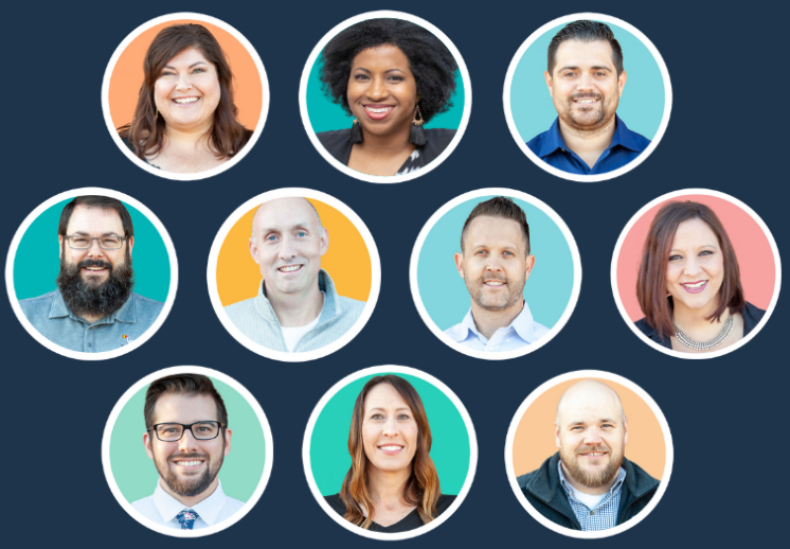 Source: Ignite Spot Team
John decided to reach out.
Ignite Spot took the time to listen and learn — and then got to work
When John and Nicola met with Ignite Spot's team, the accountants' curiosity shone through. Proactive questions showed they cared. The more they connected, the more Nicola and John felt the team could apply their accounting expertise to Thomas Brooke International's distinctive challenges and opportunities.
Right away, Breanne "Bree" Jorgensen (TBI's dedicated Ignite Spot accountant) creatively implemented QBO's Project feature to accommodate the business's arrhythmic tempo.
The move instantly reorganized each project's many data points into a usable visualization the business owners could use for both retroactive analysis and future decision-making. It also freed the company's financial information from the constraints of time: no longer were John and Nicola limited to month- and quarter-based governance. They could finally analyze data on a per-project basis.
Bree also tackled the business's complicated (and now entangled) general ledger, categorizing and reconciling years of neglected transactions and establishing a plan for compliant payroll. Finally, together, they made a staffing plan that would flex and fit with the evolving business.
Ignite Spot provides profit-margin analysis by job and revenue stream
The outsourced accounting team established a new way of reporting, too. The newly developed system breaks up Nicola's efforts by job in a monetary form, where before, the report simply accounted for her wage as an operating expense. This helps her gauge their profitability much more accurately than previous reporting methods.
The new insights also allow John and Nicola to see the huge cost benefit of keeping duties in-house — and when outsourcing makes more financial sense.
Now, the duo knows exactly which type of job (search versus consulting work) is worth outsourcing, and what should be handled by internal team members.
Visibility leads to forward-thinking, strategic decisions
Before, the business's leaders were limited to only two options: move ahead blindly or stay still. Today, they move ahead with full foresight and visibility into the financial impact of every decision.
Sudden insights made staffing easier, smarter
With their new visibility, Thomas Brooke International knew they'd be able to chase the opportunities that once tantalized them. John and Nicola hired a number of contractors right away to tackle the increasing demand for niche roles. Closer to home, the duo began responding to clients' needs more effectively. Revenue and profits jumped. The business's leaders finally knew exactly where every dollar was going and why, and they knew what to change or maintain to achieve lasting growth.
The clarity enabled more fruitful decisions in every direction
Before, risk inhibited John and Nicola's decision-making. Their new visibility has reduced or eliminated the what-ifs of almost every decision. And the more their money-making moves prove judicious, the more confident Nicola and John are.
The gift of time
It's one thing to see what's possible — it's another to have the time to make it happen. With their new visibility into finances, John and Nicola can now decide what to pursue, and what initiatives to sideline. Best of all, the work was done without their mental or physical energy, which means they now had the bandwidth to execute these new, exciting possibilities.
"I was basically freed up to put in partner-level input on the searches that we do," Nicola said. "And so it made the whole thing more feasible — rather than blocking out giant amounts of time to ensure we have visibility but then no time left, we got both."
How to get the same visibility and decision-making power for your own business
Is your leadership visibility impacted by tangled or neglected accounting? Let Ignite Spot's accountants restore your leadership vision and empower decision-making foresight.
"If you're contemplating getting in touch with Ignite Spot, you should do it," Nicola said.
"It has the potential to change your life as a business owner. I know that sounds crazy — it's an accounting firm! — but it really took away some significant stresses for us."
Nicola said the main reason business owners should consider outsourced accounting is that "you don't know what you don't know." Pausing, she added with a laugh, "And then when you do know what you don't know, it's even worse! But, thankfully, then you can also see the way out."
If you're operating in a unique industry that requires more critical thinking than most basic widget-in-widget-out bookkeeping, call Ignite Spot today for a free consultation. You may find that, like TBI's leaders, you get the added benefits of visibility, time, and decision-making power.