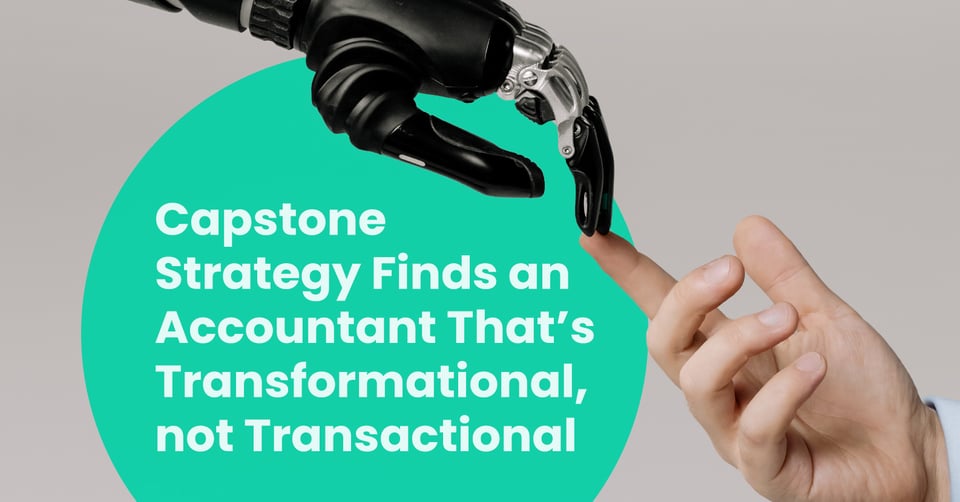 Xero reports that 41% and 50% of business leaders are looking to replace their financial advisor. Dwight and Robyn McLeod, the founders of Capstone Strategy Group, know the feeling.
"We needed the peace of mind of knowing that we have a team of experts that's looking out for our business in many places," says Dwight.
"We needed someone who took a holistic approach, someone who wants to do more than just our tax return."
Here's what things were like before Dwight and Robyn knew what an accountant could really do, how they decided when to make the switch, who to call, and what life is like for them now.
Who is Capstone Strategy Group?
For years, the McLeod entrepreneurs were employed (one with Deloitte and the other with Verizon) — and worked on Capstone Strategy in their off-hours. In 1996, the duo had "...just come off a good year where we had a fairly good income," recalls Dwight. "But instead of saving it, we sent way too much of it to the IRS," he laughs.
Ironically, an accountant friend suggested the Capstone Strategy team form a legal entity to begin writing off some of the costs they were incurring to operate.
Capstone Strategy needed an advocate on their side
The McLeods always operated their business with a financial helper, but their service providers were either scattered, passive, or incompetent in an area. They knew that if they wanted to grow, they'd need an accountant who was less focused on themselves and more focused on Capstone as a client.
Expecting too little from their accountant
Early on, the company's first accountant was a friend of a friend and somewhat absentminded. Their second solution, a pro, had more staying power, but the partnership wasn't as fruitful as the McLeods knew it could be. They worked with Capstone for 13 years, helping the business leaders weather the 2008-2012 economic downturn. This was especially meaningful to Dwight, who saw how hard the crisis was on consulting businesses like theirs.
But Dwight and Robyn suspected their accountant could be doing more for them. For example, tax time was always a rushed mess.
"Every year, come December, we had to do this mad scramble to try to figure out what we did for the previous year that was tax deductible."
Dwight and Robyn assumed this was the status quo for accounting relationships, so they settled for it.
As the industry hobbled to its feet after the economic crisis, Dwight attended a unique, exclusive NYU business program. The third session enlightened him and his fellow students about the deep and diverse breadth of services accountants should perform for businesses. Suddenly, Dwight was no longer happy with his current accountant's service.
A more holistic service to make their financials actionable
In hindsight, what Dwight and Robyn needed was an accountant who was more than an administrator and instead was a trusted advisor. Like most small business owners (61%, according to OnpPay's 2019 Small Business Finance and HR Report), they had been satisfied with their accountant's work, but barely.
61% of small business owners are satisfied with the range of services that their accountant offers.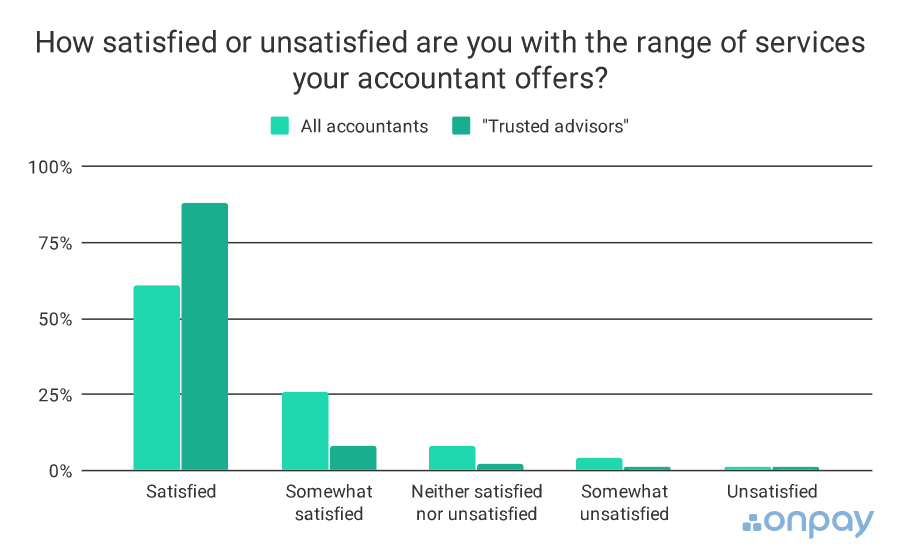 Source: OnPay's 2019 Small Business Finance and HR Report
"We didn't quite understand what it meant to have a full-service accounting team supporting us," Dwight recalls. "We were just so focused on who could do our tax return. And that was just our ignorance, not understanding that there is such a thing as full-service accounting that will actually be proactive, holistic, and applicable to your entire business and finances."
The McLeods wanted to get to a place where their accountant would proactively dig into their data and advise them based on uncovered financial insights.
They needed someone to notice things like:
• Capstone Strategy was overpaying on their third-party invoicing service. They didn't know how to build a system and process that would streamline this task, so they just outsourced it.
• Leadership lacked visibility into profit margins on the group's biggest jobs. This would be especially beneficial because this intel would empower Dwight to go to his working partners and negotiate his contract for a reasonable increase in margins.
• Some NY tax law nuances (and their ramifications) applied specifically to them. They needed to know exactly which ones and what to do.
• Their cash-based accounting method was skewing the Cost of Goods Sold (COGS).
• The company was missing out on important tax breaks to which they were entitled.
• They were also too bound to their own bookkeeping work (which their previous accountant was having them do). "I would struggle through QuickBooks just hoping I was doing it right, thinking, 'I don't know,'" Robyn remembers. "Our accountant wasn't saying we were doing it wrong, so did that mean it was accurate? We just didn't know."
Hiring a full-service accounting team that could notice and either handle or advise on these things would give the McLeods their time back. It would also give them the peace of mind knowing that it was getting done correctly and completely. At this point, sadly, they had neither.
Leadership transforms with full-service accounting
With his newfound knowledge about the deep and diverse insights accountants should be giving business owners, Dwight went on a hunt for a new advisor.
Finding an advocate in Ignite Spot
Dwight's curiosity paid off. Literally. He asked a fellow student in the NYU program who said they used Ignite Spot, and they highly recommended them.
The Ignite Spot team knew that word-of-mouth recommendations like this could be 10 times as effective as other advertising channels. They'd been working hard to earn this type of referral business.
Propelling strategy with Ignite Spot's expertise
When Dwight and Robyn hired Ignite Spot, their initial needs and expectations were met. But then, in time, they harvested benefits they didn't even know were possible.
Right away, the books were more organized, and tax time was a breeze instead of a migraine. They were also suddenly NY-tax law compliant — without the fear of unknowingly overpaying the government.
In addition, Capstone Strategy is now paying less for invoicing work. They're no longer sending invoices to a third party to handle but are autogenerating the bills and reports to the standards required. This move was thanks to Breanne "Bree" Jorgensen's creative thinking. Bree is the McLeod's dedicated Ignite Spot accountant. She set up an automatic invoicing system that allows for the complex needs of Dwight's most complex, time-consuming transactions.
Together, the team also developed a system of COGS-matching within the correct month instead of cash-basis accounting. Now, they have a true, accurate, real-time sense of profitability. Further, the accountants are now tracking Capstone's margins by job. The intelligence gives Dwight more current, data-backed negotiating power.
Perhaps most importantly, though, is that the addition of Ignite Spot instantly freed up Dwight and Robyn's time. They now had hours to devote to strategizing.
"To me, the most important KPI of working with Ignite Spot is our reclaimed time," says Dwight.
"We don't spend the kind of time we did in the past, trying to figure things out. They are much more organized, efficient, and competent. Knowing it's all handled gives us more hours to devote to work — our work."
And finally, the McLeods suddenly had a priceless assurance that an expert was handling their finances correctly. They knew someone was looking out for them, trying to find potential perils or prospective advantages ahead of time, so Capstone Strategy could capitalize — and flourish.
Getting the insights and support they need
These days, Dwight and Robyn have a new standard for their financial service providers. They also won't settle for anything less than clean, up-to-date books and reports now. The duo leverages both these new standards to make strategic decisions they're finally excited about.
Having someone to watch out for them and advocate on their behalf — a proponent — lets them operate confidently, knowing an expert has their back.
"When Congress passed the CARES Act, Bree was already in the process of applying for these things for another small business," says Dwight with a smile.
"So, she had firsthand knowledge of what it was and how to administer it. If I had been with my old accounting team, I would have had to scramble to get those numbers together, and they weren't even that difficult. But I called Bree and in just a few minutes, I had applied online and was eventually approved."
Dwight says paying for subpar accounting services is as silly as buying a sports car — and driving it wrong.
"Imagine you spend all this money for a Ferrari," he smiles, "And now you have this great Ferrari. But the only way you drive is in reverse. You're always backing up, looking through the rearview mirror. That's what running the business without knowing your cash flow and other financials is like. And just like that Ferrari, if you want to get the full benefit of your business, you've got to go forward. And you need to have a team to help you see that. Because if you can't see, then well, you're not going anywhere."
Capstone Strategy Today
Capstone Strategy Group is not who they once were.
Informed, confident, and ready to answer any question that arises concerning their financials (and industry benchmarks, to boot), the McLeod duo leads their team with sure-footed reliability.
Their leadership is stronger because their accounting processes are stronger. Decisions are more strategic and less reactive. They know they have someone watching out, so Capstone Strategy can avoid the many ways businesses unknowingly overpay for goods and services.
But despite the couple's new certainty, they still exude an expectant, curious spirit. Always learning, always looking for ways to improve, Capstone Strategy's leaders will never be fully satisfied. We believe this is a mark of great leadership. And the McLeods' business directly benefits from this character trait: Dwight attends Ignite Spot's Client Mastermind meeting where business leaders across all sectors bring their questions and brainstorm with other accountants to solve each other's tax challenges together — on the spot.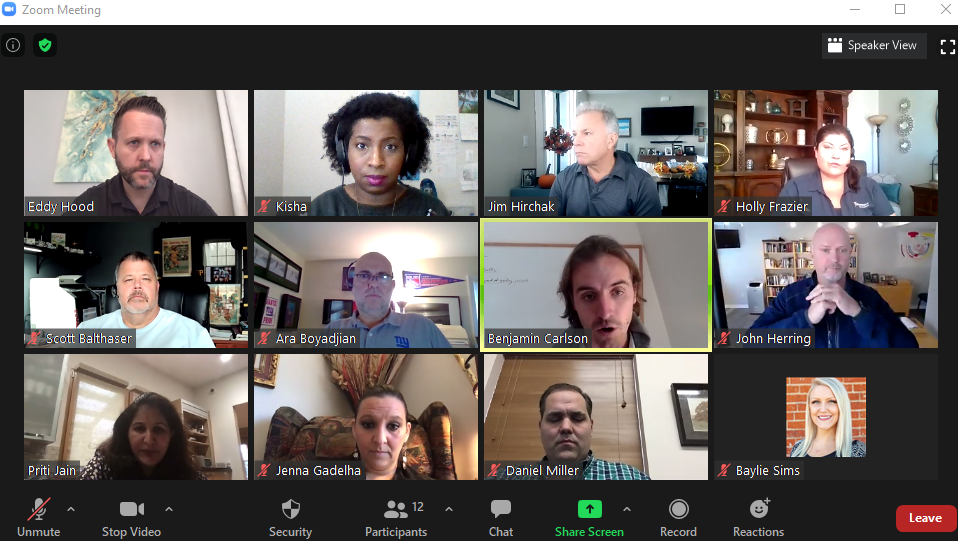 Source: Ignite Spot Weekly Client Mastermind
"Imagine a resource like that," says Dwight. "The brightest business minds and the best tax professionals, getting together to tackle real problems and share ideas. It's a godsend."
Are you ready to execute confidently with a dedicated financial advocate? Set up a free 30-minute bookkeeping analysis with one of our accounting experts to free up your time and transform your leadership.