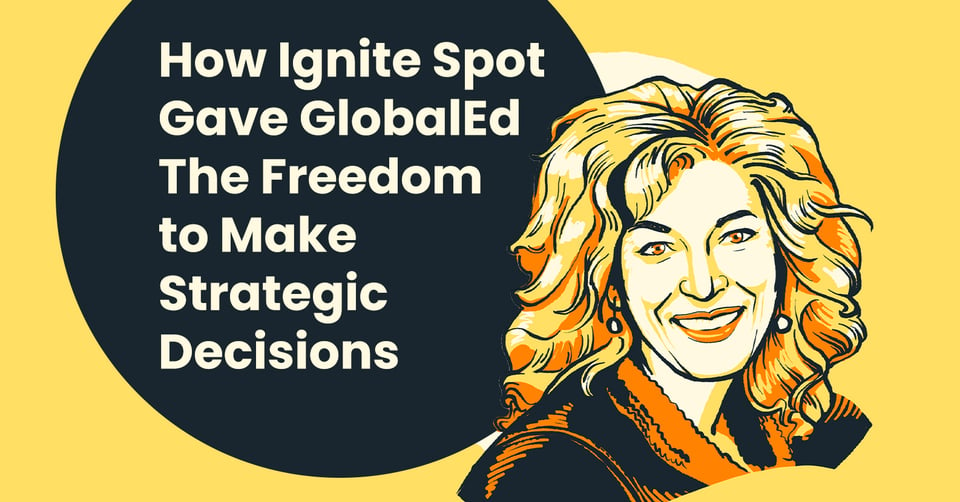 What would your day-to-day business look like if you had lower costs, a healthier and more sustainable cash flow, and more room in the budget for advertising and employee bonuses?
Today, GlobalEd Solutions has all that freedom. Formed in 2011, the organization began providing tuition-free online middle- and high-school programs that serve children and adult learners everywhere.
But as GlobalEd grew, leadership encountered more — and more complicated — financial hassles.
The challenges they faced had the potential to drastically alter their trajectory.
The Challenge: Complex, Difficult-to-Track Spending
In late 2018, GlobalEd needed an expense management solution. The goal was to find a system that provided:
• Autonomy for their 125 employees and
• Accountability from their 125 employees
• Streamlined reconciliation of expenses with accounts
And in the quest to find a solution, GlobalEd's leaders discovered something else.
"We felt like we were handcuffed when making decisions," says Dr. Dana Lambert, the organization's CEO. "We were slow on the draw making decisions simply because it was taking us so long to find out answers to important financial questions."
Snags in the Search for a Solution
Suddenly, GlobalEd needed far more than a basic tool could provide. They needed real-time intelligence and insights into their business's finances to drive better decisions.
Their original challenge of finding an expense report replacement remained, but accounting deficiencies were added to the list of pressing problems. Symptoms of this underlying need popped up in various ways, including:
• A big, complex project. The group was staring down a massive and necessary update to their Chart of Accounts across two QuickBooks files. They expected the project to require a few months of tedious work. Adjusting their Chart of Accounts was required to bring their expense reporting in line with school board requirements, and, ultimately, the State of Colorado's annual assessment. GlobalEd's leadership knew the update would eventually save their administrative staff time and energy on the regular.
• Detours. Dr. Lambert's online research produced mainstream tools. The team adopted an expense management tool that was difficult to implement, received pushback from employees, and didn't meet their needs. This cost GlobalEd valuable time, precious resources, and irreplaceable morale.
• Unseen accounting bottlenecks. GlobalEd lacked healthy cash flow management, seemingly blooming with cash one month and scrambling to cover unexpected costs the next. This lack of visibility handcuffed leadership from making important strategic decisions early and with confidence.
If the team had better visibility into their accounting and financials, then the above snags wouldn't have complicated their search. But as it was, the very symptoms of their problem were, frustratingly, sources of even more headaches.
The Journey to Finding an Accounting Fix
Like many business decision-makers, GlobalEd's leaders thought they had found a suitable solution. Sadly, the answer wasn't that simple.
"We had some twists, turns, and detours to get to where we are now," says GlobalEd founder Ken Crowell. "Three services! And this started out with just trying to solve one problem. You think, 'Gosh, this tool will do it. No, okay, it was the tool's problem. This tool will do it.' And then we realized we needed a whole department, but we couldn't do that, either."
Hiring a group of internal bookkeepers and accountants wasn't a feasible option. And that's when GlobalEd learned about outsourced accounting.
Ignite Spot taught GlobalEd what life could be like with all their bookkeeping systemized: data entered and reviewed, invoices and bills handled, transactions reconciled, and more. All with secure, streamlined processes and technologies. And unlike an internal accounting team, Ignite Spot's people are compensated by the month, not by the hour, so they're motivated to get the job done quickly and accurately every time.
Best of all, Ignite Spot promised to tackle GlobalEd's original problem of providing real-time, accurate visibility into the company's financials for better, faster decision-making. They also agreed to help find and implement a customized expense management system for all 125 of GlobalEd's employee spenders.
As the two businesses got acquainted, GlobalEd's leaders realized their challenges were actually opportunities in disguise. If their virtual accounting team achieved all these things, their business would be more than merely compliant — they'd have a new edge.
Implementing Ignite Spot
Most leaders expect at least a few setbacks when adopting a new solution, especially after some unsuccessful trials with other tools. But adopting Ignite Spot was fast, easy, and immediately beneficial.
"Ignite Spot's strategic advice really kind of replaced the tools that we might have needed."

—Ken Crowell, founder, GlobalEd
First, Ignite Spot came on board as a partner, not an employee-replacement threat.
"When you bring in a new partner, it creates somewhat of a fear factor," recalls Dr. Lambert. "So, we worked through some of that. It's not a replacement; it's just a shift. Some employees' responsibilities may be different now. Our Ignite Spot accountant was able to position that in a manner that made staff feel secure and also as a partner in the process."
Crowell agreed. "We had some people on staff that were attempting to do those functions, but their skill sets were limited and they were getting stressed out as much as we were getting stressed out on our end," he recalls. "And it was just a matter of transitioning and then finding other things for those people to do. Because we do value those employees. They're still with us. We just needed to find other items that fit their skill sets better, and everybody's happier because of it in the end."
One way Ignite Spot smoothed the transition was by getting straight to work. The most pressing project — the adjustment of the company's Chart of Accounts — took two weeks, not the months GlobalEd initially expected.
Early Wins: GlobalEd Automates Their Way to Employee Independence (with accountability)
Again, all leaders know that organizational change will have a few hurdles. But good leaders maneuver the company's trajectory to sidestep, leapfrog, or nullify them altogether. One of those impediments is the lag time before seeing measurable results. Ignite Spot helped GlobalEd avoid that frustration by delivering results the very day they stepped in to help:
• Thousands of hours saved on the Chart of Accounts movement. The Ignite Spot team renamed, imported, adjusted, and mapped about 300 records across multiple QuickBooks files. They applied their experience, using efficiencies and shortcuts that paid off immediately in time saved.
• Employees reassured of job security. Team members felt a natural uncertainty at the introduction of outsourced accounting experts. But those concerns were quelled when the internal team settled into their new roles. That confidence was affirmed when individuals saw how Ignite Spot adeptly handled what used to rankle their workflows.
• Organized payroll import process and coding. Within the first few months, GlobalEd's new accounting team had also reorganized and systematized the payroll import process (with coding) to report their payroll expenses precisely the way they needed to for their state.
Today's Results, 18 Months Post-Adoption
Immediate wins inspire. But even more impressive are the long-term, lasting changes Ignite Spot has helped GlobalEd make.
A year-and-a-half in, more and more long-term benefits of outsourced accounting services continue to manifest, like:
• A new, organized payroll import process and coding method to report payroll expenses exactly how the state requires.
• Card-holding employees are now empowered to spend what (and when) they need to but with new, full transparency that provides real-time accountability and support.
• Reduced purchase card spending (employee expenses), which means:
• $22,000 re-allocated for marketing from one year to the next.
• $35,000 higher employee bonus payouts YTD 2020 versus the same period in 2019.
• Better monthly cash flow from month-to-month as unexpected costs arise.
• A new level of visibility for better strategic decision-making and cash-flow forecasting to ensure there's enough in the bank account each month for expenditures.
• Ongoing advice on what actions to take today for confidence in the ability to meet all the upcoming month's cash needs.
• The business has gone from submitting monthly reports "constantly late" to regularly presenting them a few cushy days ahead of the deadline — regularly.
• More accurate monthly reports.
• Preparation for annual reporting has been slashed, saving valuable time and energy. When the company aligned its Chart of Accounts with the state's requirements, they eliminated the yearly scramble to comply.
• The hours saved means more time for a review to ensure everything is accounted for accurately. This extra review also allows leaders to find anomalies or trends in their financials.
Turn Yesterday's Challenges into Tomorrow's Wins
What started GlobalEd on a quest for accounting help was not disorganized books, a plan to expand geographically, the desire for tax management, forecasting, or payroll processing. It was the simple need for expense software that would give their educators and coaches the power they needed to clear roadblocks for students.
But along the way, they learned that an outsourced accountant can provide all that and more.
As in GlobalEd's case, Ignite Spot provides a better answer to all your business's financial pain points. If you're tired of late reporting, need better expense management, or want improved cash flow, download our pricing guide to find the accounting solution that's right for your business.