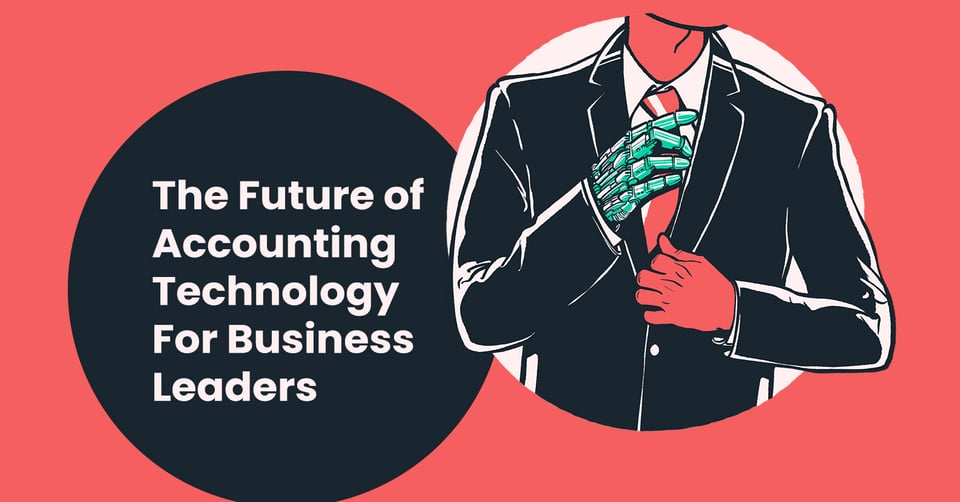 Accounting automation doesn't replace your accountant. It makes them better at giving you strategic advice.
It's one thing for your accountant to shine a light on your business's financials. It's something completely different to have an accountant who helps you decide what you can do with that intelligence. But in a nutshell, that's the future of accounting.
Accountants are doing fewer and fewer bean-counting tasks and applying more of their expertise and creativity to helping business owners like you navigate the massive changes companies face today. Let's take a look.
Recent changes that reveal the future of accounting
As you know, businesses have recently seen massive shifts in the way they do business. Some of the changes are like a peek into a crystal ball: While the intelligence is enlightening, it also has massive implications that require leaders to act.
Technology is powering finance professionals
Businesses are increasingly adopting the use of artificial intelligence, blockchain technology, and robotic process automation tools to do more.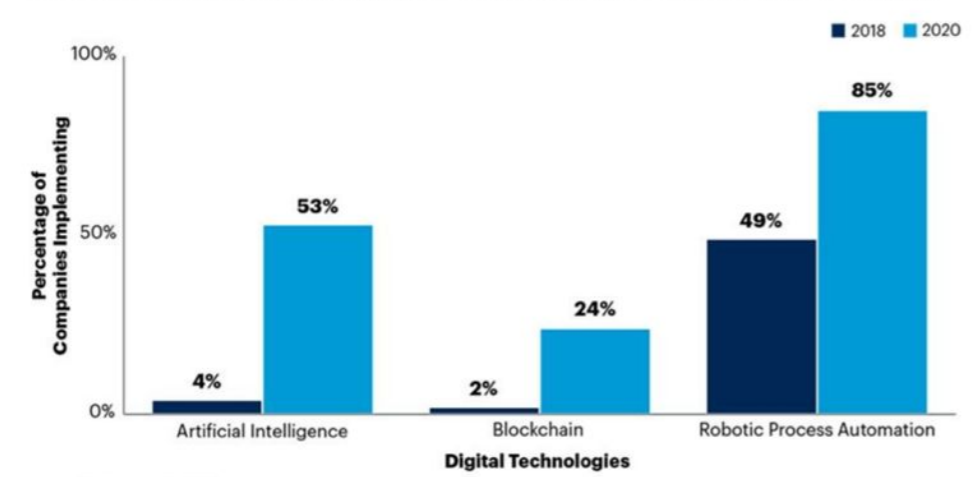 Source: Gartner via Accounting Today
People in corporate finance have not been — and will not be — replaced by robots. Instead, their most tedious tasks are being replaced. The same way banking associates (tellers) weren't suddenly jobless when the ATM was adopted, accountants won't be, either. However, many of their most tedious, mundane duties are being automated away, and that's something to celebrate.
In fact, experts at Gartner say that, today, a single program can handle up to 30 times the number of tasks a typical human can complete.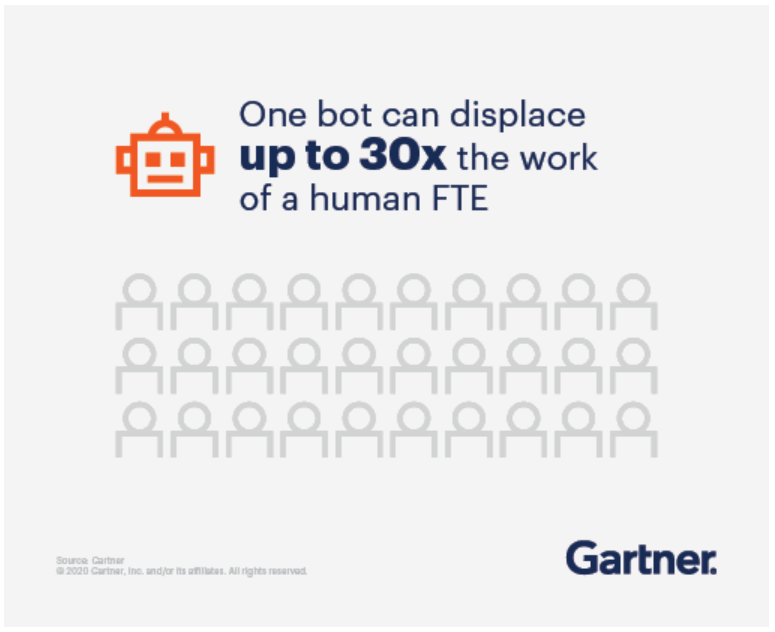 Source: Gartner Robotic Process Automation (RPA) Role in Finance Automation
Alarmists would have you believe that this means the future of accounting is less human. Or that a bot can replace 30 humans. The truth is that it can't. A bot can automate only the repetitive tasks that a human was required to do. Robots don't threaten the critical thinking that people are (and will always be) hired to do.
Automation frees up people's time. Accounting professionals, can now apply their creativity to strategic puzzles — not just task administration.

We're seeing this everywhere today. Take, for example, payroll automation solutions provider Gusto. The company doesn't advertise to certify accountants as payroll administrators anymore but, instead, "People Advisors":

Why? Because the portions of payroll administration that can be automated have been. Now, the People Advisors are freed up to do more — and they're in higher demand because they're "Wholistic Business Advisors."
Accounting is being de-siloed and interwoven into operations
Another trend we're seeing is that CFOs are more and more involved in operational (read: nonfinancial) aspects of running their business. This is one of a few trends accelerated by the ongoing pandemic.
The future of accounting is intertwined with the future of operations — in both planning and execution.

"The CFO is the leader, after all, who most directly contributes to a company's financial health and organizational resilience day to day," McKinsey analysts write about the change.
The finance department isn't just supporting or even influencing operations these days — it's leading it. McKinsey's management consultants also report that 44% of the CFOs surveyed say that internal leaders of organizational transformation initiatives (change management) report directly to them, not to the CEO. In fact, the number of overall business functions that report to the CFO has increased by 50% since 2016.
New research from the American Accounting Association (AAA) confirms this. Of companies that do employ a COO, 10% of those COOs are also chief financial officers. The AAA researchers also report that this duality is on the rise.
As a business leader, what you choose to do with this information has ramifications. According to recent research from McKinsey, the adoption of this trend determines which companies prepare for crises, cut costs the fastest, and aggressively switch to offense at the first sign of recovery.
Finance experts are helping optimize all costs in an ongoing capacity. And we expect this trend not only to continue but to increase.
Virtual outsourced accounting teams are replacing in-house and local CPAs
Not long ago, experts at Entrepreneur recommended outsourcing three types of roles:
• Highly skilled or knowledgeable in one area

• Highly repetitive

• Highly specialized
As we've seen, the highly repetitive is being automated away, and current events have accelerated that trend. That leaves highly skilled and specialized roles.
Accounting tops the list of business services Inc. experts recommend outsourcing, and business leaders, it seems, are following that advice. According to Deloitte's 2018 Global Outsourcing Survey, the difference between "currently outsourcing" and "planning to outsource" is the widest in finance. That means more businesses plan to outsource this department more than any others.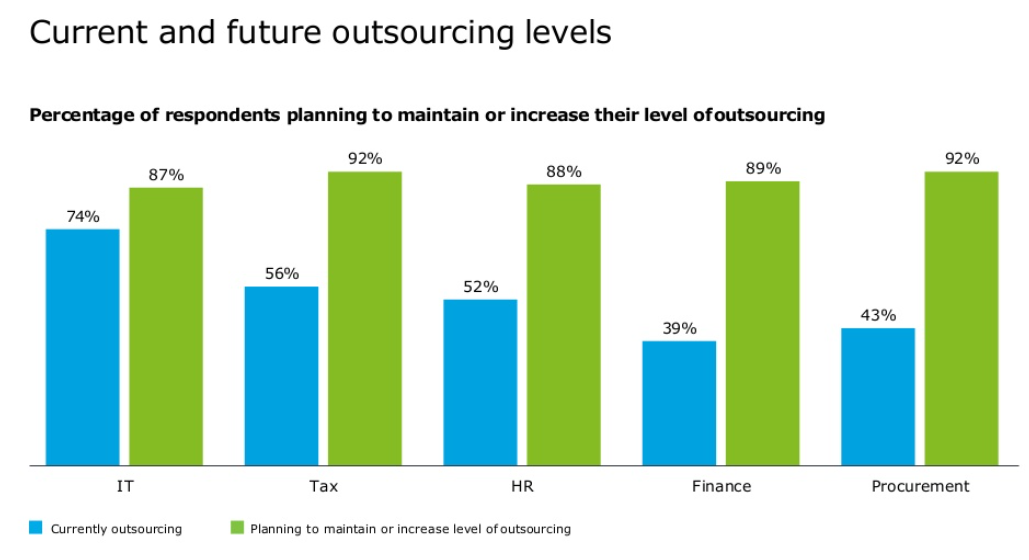 Source: Deloitte's 2018 Global Outsourcing Survey
What these changes mean for business owners and leaders
As you consider these enduring trends — the ones that are here to stay — there are a few takeaways you can and should apply.
The automation wave has only just begun
Organizations that aggressively adopt automation within the finance department outperform others in the market. According to PwC's Finance Effectiveness Benchmark Report 2017, these standouts spend 20% less time gathering data (rerouting that time to analysis), pay 25% more for financial professionals who provide insights, and spend a whopping 36% less money to operate than their counterparts. Underperformers, of course, are noticing and making moves to catch up. How? By following suit and automating what they can.
In describing automation and our ability to build, learn, and wield it, investor Mike Maples says,
"I want a future where everyone has their own Iron Man suit!" In his view, the suit would never replace the hero — that wouldn't even make sense. Instead, the suit would be a tool to empower the person within.
McKinsey analysts say that the more employees use AI, the more comfortable they become, leading to more usage. This will continue spreading as current tools are integrated and new tools emerge.
The sooner you involve finance in operations, the better
Leaning on financial experts to help determine both strategy and execution is another wave that has only just begun. And the earlier companies jump on the trend, the better they'll fare. They'll know exactly how every move they make will impact the top line and the bottom line. Follow their lead and you'll be in great company: Reporters at Financial Review list a number of organizations that have promoted their CFOs to CEOs, having contributed so much lately to operations.
Start outsourcing to save money, continue outsourcing to add value
The final trend — the increasing pattern of outsourcing — well, that trend will accelerate, too. And Gibraltar Magazine predicts that while cost savings will always remain one reason businesses outsource accounting, the value added by strategic advisory services will drive the trend even more. That's because more and more customers of outsourced accounting realize more lasting benefits months into the partnership, long after they've seen the typical cost cuts and revenue increases.
Business owners need strategic advice now more than ever
If business owners want to apply financial insights to daily operations, they'd be smart to ask the advice of the expert who helped them uncover those insights. Indeed, 72% of business owners say they will still retain their accounting advisor, no matter how much automation is available.
Rodrigo Salas, group product manager for Intuit QuickBooks Accountant notes,
"As online accounting technology gets smarter, accountants will better understand their clients' overall financial picture... empowering them to provide more impactful, holistic advice to the small businesses they serve."

Developing people (footnote number 1 in the graph below), making decisions, planning, and exercising creativity (2), as well as interacting with stakeholders (3) are jobs that cannot be automated. And those are exactly what small-business owners need their financial advisors to do — as soon as their technical accounting is in order.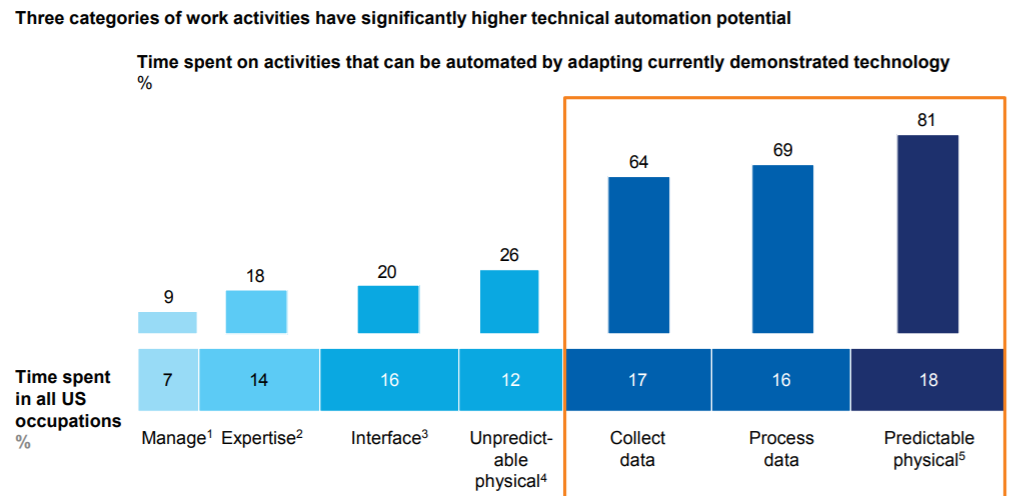 Source: McKinsey Global Institute
The Future of Accounting: Innovation
Today's term for enduring changes is simply "innovation."
There are only two ways to flub innovation: doing it too quickly, and doing it with the intention of replacing humans. Take it from Elon Musk, whose company Tesla overautomated for both of those flawed reasons and paid the price:
No matter what trends you see, never try to innovate your business without an accountant. Instead, choose a finance team that's decked out in the latest Iron Man suit available so they can do more — much more — on your behalf. To learn exactly how accountants can be the best advisors, download the Ignite Spot pricing guide, and read all the services we can provide to your business.
This year has forced businesses to embrace technologies that enable remote operations and increase efficiencies with automations. As a leader in virtual CFO and online bookkeeping services, Ignite Spot helps businesses future-proof their accounting. Learn how we can help you leverage real-time insights from cloud-based accounting software. Download the pricing guide to view our financial advisory services.