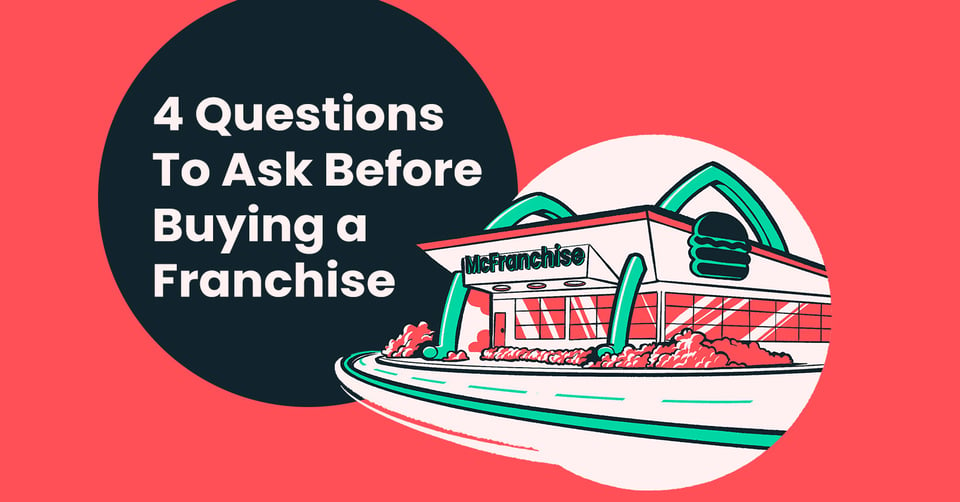 There's never been a hotter time to buy a franchise. Franchises have become steadily more profitable over the last eight years.
Source: Statista
The apparent opportunity has prompted exciting headlines like "24 Top-Ranked, Affordable Franchises You Can Buy for $25,000 or Less — These low-cost franchises are worth your time, energy, and investment."
But are they truly worth your time, energy, and money? Yes, they are. But only for people who can analyze both the deal and their own financial position. Entrepreneurs who want to open a franchise this year should ask themselves the following questions before considering any deal.
1. Do I really know how franchises work?
There are important differences between a conventional startup and a franchise. Both ventures make you a business owner. Both let you choose your own financial destiny. But that's about where the similarities end.
Most people think of franchises as fast food joints, but there are five types of franchises. By far, the most popular (and one we'll be discussing here) is the business format franchise.
There are hundreds of types of franchises, including...
• Tutoring professionals
• Retail stores
• Fitness centers
• Hotels
• Florists
• Senior caregiving services
• Auto repair and maintenance
...and so, so many more. One franchised location or operation is called a "unit." Interestingly, many unit owners are taking on multiple units. The SCORE Association reports that more than half of today's franchise units belong to an owner of more than one unit.
According to the International Franchise Association (IFA), a franchise is "...a method of distributing products or services involving a franchisor, who establishes the brand's trademark or trade name and a business system, and a franchisee, who pays a royalty and often an initial fee for the right to do business under the franchisor's name and system."
The Small Business Administration (SBA) makes the concept simpler with a helpful visual (below) that demonstrates a franchise's main characteristics. It's a proven system that's widely available, offers no promise of profit (even if you invest a lot into it), provides a high level of support, tends to attract investors, and more.
Entrepreneurs who want to open a franchise enter a legal agreement with the franchisor.
Source: The SCORE Association with the U.S. Small Business Association
• A license to use the franchisor's trademark — their "brand"

• Access to the franchisor's systems, processes, and quality standards

• The right (and actually, requirement) to sell the franchisor's goods/services
You can launch a unit, or you can buy an existing franchise the same way you can buy any other small business. Many franchisees buy their units from their employers. "As an employee in the franchise for 4 years, it was a smooth transition to owner when my employer decided to retire," recalls Sandy Zamalis, BCCS, who bought LearningRx in Staunton, Virginia.
2. Is the franchise in question viable?
Entrepreneurs who properly evaluate a franchise deal are a step ahead of those who simply trust a franchisor's vague promises.
Indications profitability is likely
The American Association of Franchisees and Dealers (AAFD) offers eight criteria for evaluating a potential franchise's profitability.
High-quality products or services. Avoid companies that focus on sales without considering long-term customer relationships built on value.
Franchising is the company's main distribution channel. Watch out for franchisors who sell their products in retail or discount outlets.
An established industry. Be sure the franchise you're considering is in a space with plenty of consumer demand.
A well-known, well-loved brand name. One of the main reasons to open a franchise is so you can use the brand's earned reputation. Don't go for a franchise that's just starting out.
Strong business model and marketing strategy. Entrepreneurs who want to open a franchise should agree with how their franchisor plans to support and promote the new business. For an example of this in action, look no further than the case of the new Savannah, Georgia, Circle K opening. The franchisor used social media, paid placements, and public relations outreach to support the new location in its launch.


Source: Approach Marketing
Healthy franchisee relationships. Get in touch with other franchise owners from this company, either by checking the AAFD chapter list or simply searching the internet. What are their experiences with the parent organization? Search the BBB and unhappyfranchisee.com for honest reviews.
Strong sales and revenue data. Only trust a franchisor who can show you a proven financial history and return-on-investment for other units.
Support of fair and equitable franchising standards. Research what the franchisor has said publicly about the franchising model — its benefits and pitfalls. Does your franchisor rise above the temptation to cut corners?
You should also look for strong overall company growth. Entrepreneur lists the fastest-growing franchisors each year, which gives you an idea of where franchisees have the best chances for success. In addition, try to dig up individual unit sales. You can find some of this valuable information from the franchisor's franchise disclosure document (FDD), Item 19, specifically. Or, you could search sites like FranchiseChatter.com, where analysts comb and compile relevant financial information from the same source (and add their commentary). And if you're itching to get back to in-person events, look up the closest date and location of the Great American Franchise Expo.
And finally, if at all possible, try to find the success rates of other units. This is found in Item 20 of the FDD of franchisors who have published their contracts. If undisclosed, search online for loan default rates or news stories that may give you insights. For example, Senator Catherine Cortez Masto recently sent a headline-making letter to the SBA about four franchisors' low success rates. If you can't find this information online, reach out to the SBA directly.
3. What's my financial and legal position?
Determine if you have enough capital — or access to it — to start or buy a franchise.
You'll need enough for startup costs and ongoing fees
Each industry and business model will involve wildly different startup costs. For example, a virtual tutoring franchise won't have the expensive price tag of the real property (real estate) involved in a restaurant franchise.
What types of startup costs can you expect? Good question. Franchise Direct has an always-updated list of initial investments and ongoing costs for many franchises. For example, the initial investment for a Budget Blinds operation may look like this:
Source: Franchise Direct
The U.S. Chamber of Commerce offers startup costs for 10 popular franchises to give you an idea of the units that may resemble the one you're considering.
In addition to the initial startup costs, entrepreneurs who want to open a franchise are often required to provide proof that they have a minimum liquid cash reserve.
You'll also need outside experts to advise you
While money helps, entrepreneurs who want to open a franchise need more than cash to get started. You'll need legal and financial expertise.
An outside expert or two can evaluate the deal and the impact of your choices. "My first franchise was Maui Wowi Smoothies," says self-identified serial entrepreneur Tom Scarda. "It was a success. I sold it within five years and semi-retired at the age of 41."
After that, Scarda says he got cocky and tried to run another franchise without any outside help.
"My second franchise was a complete failure and I lost almost my entire life savings. I should have talked to my previous consultant. She would have set me straight and saved me lots of time and a ton of money."
There are two main reasons you need an expert's help. The first is because the legal agreement, called a franchise disclosure document (FDD), is not just a contract — it's a series of contracts. A franchise attorney in your corner is the only way to understand and navigate all of them. Further, your state has its own franchise laws you must know and observe.
But the most exciting way a franchise attorney can help you is by giving you negotiating power. Franchise attorney (and 2020 Legal Eagle) Farheen Ibrahim says,
"Franchisees mistakenly believe that they cannot negotiate the franchise agreement."
"Some of the most common points we negotiate are financial terms (like lower initial franchise fee, waiver of royalties for a period of time, reallocation of marketing funds to local advertising for some initial period), limitation of the personal guarantee, and a larger protected territory. Sometimes, we are even able to negotiate more favorable post-termination non-competition and liquidated damages provisions."
The other reason you need an outside expert's perspective is to help navigate the financial complexities of the agreement and operations. Thankfully, Ignite Spot is ready to help. From bookkeeping and payroll administration to tax prep, cash flow analyses, and even CFO services, your outsourced accounting team can help and advise you through all the financial aspects of buying and running a successful franchise.
(Back-to-Top)
4. Am I up to the unique challenge?
Let's say you have all the information, you have a strong financial position, and you have wise outside counsel. Now, do you have — within you — what's required to own and operate a franchise?
First, you must understand your own tendencies. "Know your strengths and weaknesses," says franchisee Amanda Singer, owner of Just Love Coffee.
"Find people who have strengths in your areas of weakness and let them own it. If you're not a people person, hire a manager who is stellar with people."

Source: Just Love Coffee Atlanta Perimeter
You also need stick-to-it-iveness. Lianne Sanders says that if you get bored, your operation will suffer. That's what happened to her mango smoothie franchise. "It was a beverage business, and did quite well for a few years but my loss of interest stopped me from continuing the operations."
And finally, you do need some business acumen. "You cannot get by with passion alone," says franchisee Angie Fuller, owner of Farrell's eXtreme Bodyshaping in Cedar Falls, Iowa. "You have to know how to run a business."
But to echo previous voices, Fuller also emphasizes hiring or outsourcing for your weaknesses. "You have to have some marketing and sales background, plus programming. Or, be willing to hire those things out."
Stay a step ahead of other entrepreneurs who want to open a franchise
Many entrepreneurs (some who you've heard from here) get sucked into franchise "opportunities" by predatory franchisors — instead of analyzing the business model for themselves.
You're a step ahead. You now know how franchising works and what to expect. You also know who to go to for help: Ignite Spot, your expert outsourced accounting team. Call us today for a free 30-minute conversation about the franchise you're considering.