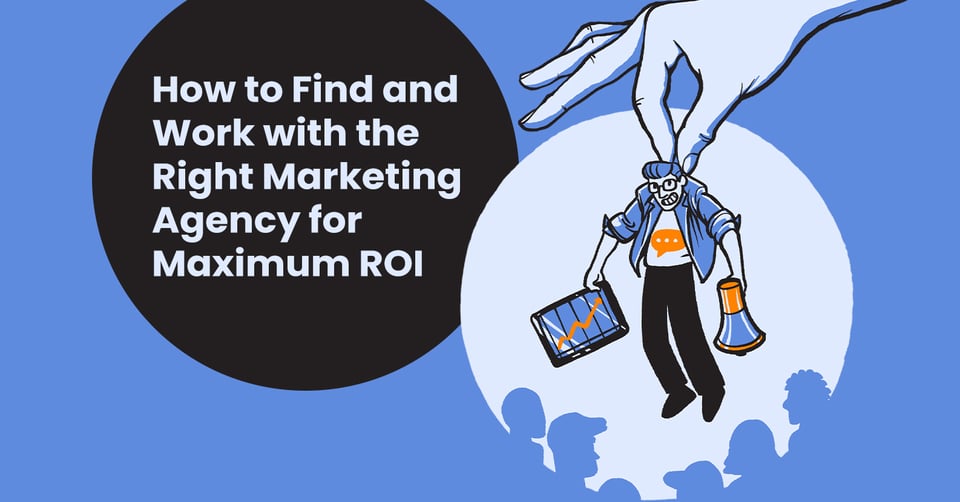 Marketing impacts revenue. Research from experts at OutboundEngine shows that even a small increase in marketing spend rewarded small businesses with more revenue growth than their counterparts.
Why, then, do nearly half of all business owners put less than $10,000 toward marketing? Our experience tells us it's because finding and cultivating an agency partnership that provides a substantial and measurable return on investment (ROI) is difficult.
That puts most business owners back to square one. Ironically, the difficulty of planning and executing campaigns paralyzes many business leaders. That's why, when asked which type of marketing content they create, many business owners simply say, "none."
Your marketing strategy is vital to your company's success. So vital, in fact, that it can feel impossible to delegate. But there comes a time when leaders must choose, develop, and unleash a team to execute the plan without constant involvement.
The good news is that marketing ROI can be baked into your plan. To do that, you must find and invest in the right agency.
Establish what you want to get out of the partnership
Before scoping agencies, decide now what path you'll take to reach "ROI," a famously tricky target. You can easily fumble this foundational phase by setting goals that are fuzzy or philosophical, hard to measure, out of reach, or ill-timed.
Know what sabotages marketing partnerships
Your overarching goal is simple. In fact, we're handing it to you: you want a synergistic partnership. Don't settle for just another vendor. Revenue is the byproduct of an electric, proactive agency collaboration.
To find that fit, beware of commoditized services and how those hurt the relationship.
Agencies that offer these subpar services are often:
• Generalists. They're not limited in expertise to one area. They don't focus on core strengths or industries.
• Least expensive. These shops usually promise the lowest cost and highest quality (simultaneously and unconditionally). That's a red flag.
• Unable to define or specify "quality." When pushed, they may revert to buzzwords or cliches instead of specifics.
• Unprepared to show or describe QA ("quality assurance") processes.
• Neglect to vet their own clients. They claim they serve all customers. They may assure you that you (and all other brands) are a good fit.
• Lack innovation. They can't point to a recent creative risk that worked out. They struggle to show what differentiates their service from others.
Yes, you will encounter shops like these in your search. So, early on, endeavor to find someone who specializes but who's also holistic-minded. Determine that you'll find a team that can integrate their niche offerings into your other marketing activities, as well as your overall business strategy.
Decide which marketing skills and strengths to hire for
At Ignite Spot, we've always advised business leaders to hire talent that brings new strengths to your business. Your marketing team can't be everywhere your customer is. That's where an agency can help. Here are some of the most common specialties you may want to target in a partnership.
Paid search. This is also known as pay-per-click or "PPC." Google claims that for every $1 you spend on their Ads platform (formerly called AdWords), you'll average an $8 profit. On the other hand, some users say "Google ROI sucks," and "Adwords sucks!" These complaints are often prompted by Google's seemingly arbitrary penalties and bans, limited targeting, cannibalization, and low-quality traffic. Seasoned PPC teams help you navigate these unfamiliar rules and squeeze the biggest return out of your paid search investment.
Search engine optimized content (SEO). A 2020 survey of business bloggers revealed that SEO is the most important traffic source for their website.
Source: Orbit Media Studios
Social media. Social channels provide a unique blend of paid and earned exposure. Brands — and their spicy personalities on social — have become a thing in recent years. Yet, marketers still cite ROI as their #1 social media marketing challenge:
Source: Sprout Social Index
Traditional media. Radio, print, outdoor, and TV ads are making a comeback. People still read magazines, and Gen Z is leading a resurgence in print media consumption. Savvy brands aren't ignoring analog marketing. During the pandemic, for example, Audible ran a nostalgic TV and radio spot encouraging consumers to "get away" with their product. Wyndham Hotels is going a step further by acquiring Travel & Leisure Magazine. And Zoho took to the skies above a competitor's conference in a creative, gutsy stunt to promote their own solution. Remember, traditional doesn't have to mean predictable.
Source: Zoho via Twitter
Email marketing. Over three-quarters of people say they prefer email marketing over interrupt ads from channels like social. Why? Because unlike with popup ads, they're in control of their consumption. Other benefits of email include personalization, data collection and analysis, and yes, higher ROI.
Experts at the Direct Marketing Association say that email's ROI averages 122%, quadruple that of social or PPC.

Content marketing. This is an area where we at Ignite Spot excel. We produce blog posts, videos, webinars, and a branded community group just for our most elite audience members. Many business owners believe that content marketing is text-based and/or digital only. It's not. According to the Content Marketing Institute's definition, content marketing includes in-person events and audio content like podcasts, too. It works hand-in-hand with all other marketing tactics. Sadly, though, 39% of businesses that do content marketing don't measure ROI.
Source: Semrush
Web design. Often, your website is your customer's first impression of your brand. If it's structured properly, your site's design improves its rankings in search engine results. Experts at WebFX have found that investing in website visitors' user experience yields a 9,900% return on investment.
Determining specific objectives early on like this helps narrow down the dizzying array of agency options available.
For optimal ROI, find the best fit for your company and goals
Your best bet for earning max returns on your investment is to sidestep costly agency issues by finding the ideal fit.
The average customer-agency relationship tenure is now 3.2 years.

Brands split from their agencies for a variety of reasons, some of which can — and should — be prevented. Here's how to set the stage for a lasting marketing agency relationship straight from the beginning.
Know where to find superior marketing talent for less
Start with referrals. Ask your own network and colleagues if they know of outstanding shops that provide the services you want.
Then, ask around in online groups and industry communities. Check trade associations' discussion boards. Use the "talk time" at virtual events. Listen to keynote speeches given by agency CEOs at online summits or archived event recordings, and reach out if their offerings and ethos resonate.
You can even outsource your search. Hire an agency search consultant or firm to narrow down your choices.
Less reliable but still viable ways to find marketing vendors include Google searches, ads, and agencies' social media presence.
Pre-qualify hopeful agency partners
We recommend planning to spend at least 30 days to get to know your agency hopefuls. Start a dialogue by making contact — without an RFP attached to your introduction. Is this agency even interested in you as a customer? If so, create and send an RFP that sets the tone. Include rough estimates of the project's scope, timeline, budget range, and any secondary services you'll want if the agency's primary deliverables really "wow" you. Don't ask for free work or ideas at this point.
Score applicants and choose your partners
Next, it's time to rank your agency and their proposals. Look at client references, paying close attention to the priorities you said you want. Give your top-ranked agencies a hypothetical scenario to find out how they think. Then, meet the actual account team assigned to you — don't assume who "sells" to you is who you'll work with.
Once you choose a partner, keep your documented goals and vetting criteria to use as measurements of ongoing performance.
When you meet to sign an agreement, be prepared to decide on key contractual factors:
• A mutually favorable commitment. Many agencies will try to push you to sign on for two years. You may want to avoid longer contracts, but do plan to give your agency at least one annual cycle. Remember, time plus truth equals trust.
• A reasonable out clause. Include an out clause that allows for at least 30 days for transition time.
• A smart pricing structure. Don't agree to the conventional percent-of-spend pricing packages of previous generations. They facilitate misaligned incentives, which in time can sabotage your relationship.
Manage your marketing service relationship to maximize ROI
Agency partnerships are not set-it-and-forget-it. You must involve yourself at specific junctures.
Onboard: Set the tone for continual and specific feedback
As you ramp up operations with a new, creative, and proactive team, brace yourself to make some minor concessions along the way. For example, you must understand and accept what's not included in their offerings. Ask for specifics, reasons, and alternative ideas. Your agency partner will often come up with innovative workarounds or substitutes.
During your kickoff meeting, flush out all specifics. For example...
• Under what circumstances will your two teams connect?

• Who will call who?
• When? How often will you touch base?
• What will you cover in those regular meetings?
• Who will you contact if your regular person is out?
Create a performance scorecard together and agree on how often you'll measure your collaborative projects against it. If you need a template to get started, Erik Harbison, cofounder and president of The Marketing Help, offers one for free — use it as a springboard. Customize it by adding your own expectations.
Watch the full recording of the Pick a Profitable Marketing Partner webinar to access a copy of a marketing agency scorecard.
Challenge, sharpen, and improve one another
Successful agency accountability is a two-way street. Use both your vetting criteria and documented scorecard regularly to uphold your agency's performance.
Also, look for qualitative (above-and-beyond quantitative) results. If an agency only does measurable checked-off things, then it may be less expensive to bring that talent in-house. But if an agency displays the type of elusive business acumen that keeps a finger on the pulse of your industry, recent acquisitions, executive shuffles, and trends, then it's your job to pick up on that and show your appreciation.
Finally, plan to be held accountable, as well. Your agency partners are going to suggest you do things to maximize their deliverables. Do those things. Or at least execute an agreed-upon alternative version of those things. Yes, fulfilling these suggestions requires resources. But for maximum marketing ROI, plan to spend time, energy, and money at least considering them — if not outright doing them.
Enhanced ROI makes your marketing team a secret weapon
As you can see, the vast majority of the management of your marketing agency happens in the foundational, planning, and orientation phase. This is deliberate. The strategic approach saves you a lot of headache and heartache later on when the relationship flourishes. Best of all, the delayed cost savings of this front-loaded effort maximizes the return you'll see on your marketing investment.
For more on how to invest strategically in your business, schedule a free session with an Ignite Spot Virtual CFO.