Small Business Resources for Entrepreneurs with Disabilities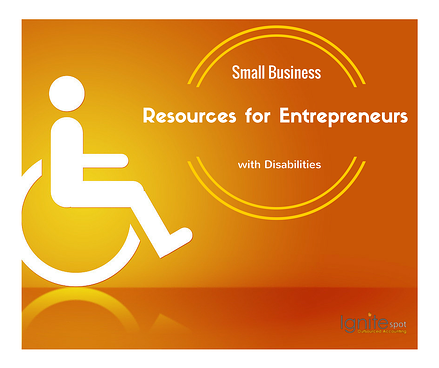 Written by Eddy Hood
Millions of people all throughout the United States suffer from some form of disability. But don't underestimate them: Many disabled people have proven to be outstanding entrepreneurs with terrific small-business ideas! The federal government and nonprofit organizations throughout the U.S. make available many resources for disabled people seeking information on business topics. Whether you are interested in accounting, bookkeeping, tax services, or any other business issue, odds are good that there are relevant resources in your community.
When developing a strategy for small-business success, it is important to follow a tried and true path and get your ideas down on paper. You certainly don't need a business degree to learn the important basics about developing business plans and marketing plans. Having all of this information written out will not only help you define and stick to your goals, but it's also a very important part of getting funding from investors. That's true no matter whether you are looking to the biggest nationwide venture capitalists or people in your local community.
After your basic concept and strategies are firm in your mind, it's important to put fundamentals of financing into place. Not only should you look for funding, but also make sure that you are fully in compliance with tax laws and other obligations. By learning about business finance from the very beginning, it becomes much easier to monitor the fiscal health of your enterprise. This way, you'll be able to spot ways of saving money and improving revenue more easily. There are also very specific tax rules that can benefit disabled entrepreneurs. Accounting, bookkeeping, and your choice of tax services can all influence your profit.
Last but certainly not least is the concern of business growth. If you can develop a plan that will consistently help your business to grow over time, there's no limit to the income that you could potentially achieve. Disabled entrepreneurs can get a head start on this by seeking out business owners in the community. Ultimately, however, it's necessary for most businesses to look to an outreach strategy they can add on to year after year. That could include things like holding talks and events, actively soliciting referral business, or even opening locations in other areas.
Becoming an entrepreneur is a great adventure and extremely rewarding. No one should believe that it's out of reach because of any disability. Disabled entrepreneurs bring to the table a wealth of great experiences as well as determination and the drive to help other people around them. Plus, there are many industries, such as travel, where a disabled person's perspective can be particularly profitable. Of course, starting a business that stands the test of time can also be a huge challenge. The sooner you start learning about what it takes to attract and maintain customers, the more likely it is that your business will be a tremendous success.
Business Plans
Click the links below in green to get these resources
Marketing Strategies
Click the links below in green to get these resources
Outreach and Growth
Click the links below in green to get these resources
Finances
Click the links below in green to get these resources
---