How to Reconcile Accounts
Written by Eddy Hood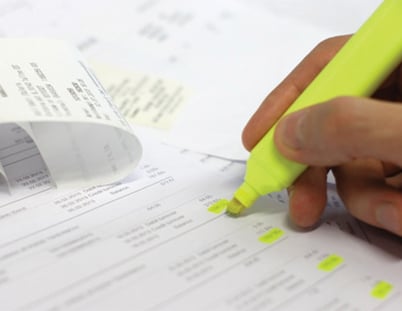 As the owner of a small business, you are solely responsible for ensuring that all of your numbers are correct at the end of the day. From spending budgets to employee payroll, your business dollars must add up. With all of those moving parts contributing to your success, business accounting can be quite a daunting task, but that is what outsourced accounting services like those available from Ignite Spot are for! When your business needs to prove or document their account balance, this is known as reconcile accounting.
In simplest terms, reconciling your account is determining how much money your business has in general checking. To do this, it is important for your business to keep records of each and every transaction that occurs. Relevant documents like invoices or contracts are often necessary when it comes to reconciling your business accounts. As such, maintaining order of these pertinent business documents is of vital importance to the growth and development of your business.
Steps for Reconciliation
The following steps should be taken when you reconcile your accounts for your small business:
Get a copy of the current statement for the account in which you are reconciling. In most cases, this will be a bank statement or a credit card statement.
Make sure that last month's ending balance in your accounting software shows as the beginning balance on your statement.
Enter the ending balance from your statement into the corresponding field in your accounting software.
Launch the reconciliation program. Mark all deposits, checks, and other transactions on your bank account as "entered" in your accounting software if they are already there. This is usually done by clicking a check mark box next to the transaction in your software.
Add any new transactions from the statement that are not already in your accounting software.
Review any transactions in your accounting software that are not yet on your statement. This would include undeposited payments, uncleared checks, etc. Make sure they are legitimate entries. If not, adjust or remove as needed.
Ensure that your reconciled difference equals $0 in your accounting software. If it doesn't, you have missed transactions or made inappropriate entries and will need to review your transactions again.
Once complete, click the "Reconcile" button in your accounting software, print out the reconciliation report, and attach it to your bank statement for filing.
By completing these tasks, you are proving that the transactions involved in your account belong in that account, not in another account, and that those transactions are valid. You will also gain a better understanding of the inner workings of your business. Most importantly, reconciling your accounts proves that you are maintaining an open and honest business, and will help protect you from getting into legal trouble. Knowing how to reconcile accounts can be helpful, but you can save time and money by using Ignite Spot's outsourced accounting services.
If you want to take control of your small business, have your accounts reconciled by Ignite Spot. We offer online accounting and bookkeeping services that are designed to help your firm become financially sound and, most importantly, profitable! We will take all of your business debits and credits and design a solution that is right for you, all while ensuring that your account records are accurate. No matter what business goals you have, Ignite Spot is here to help with your reconcile accounting needs. Download our pricing sheet today or give us a call for more information.
Learn More About Similar Accounting Topics:
Understanding the Accrual Accounting Method
The Difference Between Cash Basis and Accrual Basis Accounting
The Purpose and Practice of The General Ledger
What is the Cash method of Accounting?
What is Activity Based Costing?
Affordable Care Act and Small Business Requirements
Generally Accepted Accounting Principles (GAAP)
Know Your Options in Small Business Finances
The Effects of Small Business Bankruptcy
How Do Small Business Loans Work?
The Importance of a Business Plan
Choosing the Best Small Business Credit Card
What is a Business Investment and How Should It Be Accounted For?
How Hard Is It To Get a Small Business Loan?
Understanding Different Entity Types
How Much Capital Is Needed to Start a Small Business?
Getting Involved in Business and Communicty Organizations
What are Business Liabilities?
What is Business and Financial Leverage?
Accounting Services
Top Pages