The Importance of a Business Plan
Written by Eddy Hood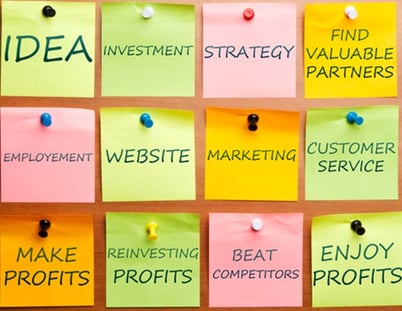 A business plan is one of the most important tools to help your business grow. It gives your business direction and sets clear goals for what you want to accomplish in the next few years. Banks look at your business plan as a factor in seeing if you will qualify for a business loan. The importance of a business plan cannot be stressed enough. A good business plan should address your accounting practices as well as goals for growth and revenue each year. Whether you are just starting a business or you have been in business for several years, a good business plan can help you to continue to grow your company. It is important to look over your business plan at least once a year and to make adjustments as needed. This will help you to continue to grow and reach your revenue goals each year.
According to the SBA, a business plan should plan for the next three to five years. It can help you determine which parts of your business should be outsourced so that you can focus on the parts you are best at. Your business plan may look at marketing goals, as well as provide a basic bookkeeping business plan. It will help you take the next steps forward and make it easier to see when a business decision is not in line with your current goals. Your business plan can help you determine when to hire new employees and expand.
At Ignite Spot, we work with small business owners and help them to create long-term plans to help their businesses succeed. In addition to traditional accounting services, we offer CFO services to help you, from cash flow forecasting to helping you get out of debt. These are essential in creating a strong business plan that will help you qualify for loans and small business funding. Our accountants understand the importance of a business plan for your business and will work with you to create a strong plan that protects your assets and will help you to stay profitable.
A bookkeeping business plan can help you determine when to make purchases, and when to depreciate assets. It looks at your entire financial picture and helps you make the most of tax laws and deductions. It really helps to have a professional accountant help you with these types of decisions. Our accountants can help make sure you are charting a steady course for growth over time.
At Ignite Spot, we understand the challenges facing small business owners. Our firm is dedicated to helping you so you can make your business succeed. We can help you come up with a solid business plan and forecast your cash flow. It is essential to have a plan if you want to continue to grow. We also offer traditional bookkeeping services and help with your taxes. To learn more about outsourced accounting services from Ignite Spot, download our pricing guide online or contact our expert accountants by phone or email today!
Learn More About Similar Accounting Topics:
Understanding the Accrual Accounting Method
The Difference Between Cash Basis and Accrual Basis Accounting
The Purpose and Practice of The General Ledger
What is the Cash method of Accounting?
What is Activity Based Costing?
Affordable Care Act and Small Business Requirements
Generally Accepted Accounting Principles (GAAP)
Know Your Options in Small Business Finances
The Effects of Small Business Bankruptcy
How Do Small Business Loans Work?
Choosing the Best Small Business Credit Card
What is a Business Investment and How Should It Be Accounted For?
How Hard Is It To Get a Small Business Loan?
Understanding Different Entity Types
How Much Capital Is Needed to Start a Small Business?
Getting Involved in Business and Communicty Organizations
What are Business Liabilities?
What is Business and Financial Leverage?