Generally Accepted Accounting Principles (GAAP)
Written by Eddy Hood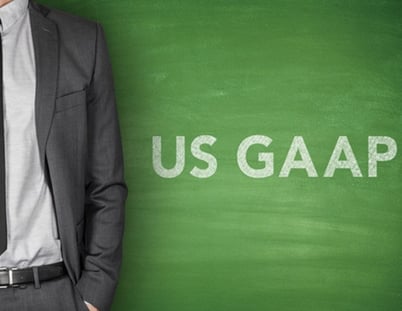 What are the GAAP principles? The acronym GAAP stands for "Generally Accepted Accounting Principles." They are the principles of financial accounting that are established by the American Institute of Certified Public Accountants (AICPA). Certified public accountants (CPAs) must adhere to these principles of accounting when preparing financial statements. The GAAP favor the accrual method of accounting, wherein future credits (deposits) and debits (payments) are accounted for, over the cash method, wherein credits and debits are recorded only when they actually occur.
Cash vs. Accrual
Many municipalities and businesses are steering away from the basic accounting principles of the cash method in favor of the accrual method. From a bookkeeping standpoint, the accrual method is much more complicated, in that the accountant must recognize both transactions that have already occurred and transactions that are anticipated to occur to give a better idea of a company's overall worth, as opposed to just its actual cash value. In other words, if your small business is currently in the red because you've overdrawn your business accounts, but you are expecting a significant payment in the near future, the accrual method would take into account that payment, as well, and might reflect your business's standing as in the black. The main difference between these general accounting principles is that one reflects your actual cash balance, while the other reflects your company's overall financial condition. Both can work well for any business, but which one is right for you?
Why Some Businesses Use the Cash Method Anyway
While the generally accepted accounting principles favor the accrual method, the cash method might work better for you if you run a small business. You likely conduct your business on a cash basis with your vendors and employees and have no need to present a financial picture to any investors. You simply check your business's bank account information daily and keep your records neat and tidy. This method of accounting can save you both time and money. Using this method, a company might be able to report smaller revenue at tax time, saving money on taxes. It can save time, as well, simply because it's less complicated than the accrual method. Financial statements using the cash method of accounting are still valid, but if they are prepared by a CPA, the CPA cannot claim the statements are consistent with the GAAP.
How We Can Help
Ignite Spot provides outsourced financial services designed to help you with all of your financial needs. Hiring your own in-house accountant can be expensive. Outsourcing your accounting and bookkeeping to a firm like Ignite Spot can actually save you time and money, allowing you to focus on what it is you do best. With outsourced accounting from Ignite Spot, you won't have to worry about the principles of accounting; you have enough to worry about just running your business. We are here to help your business grow, and as you will see when you download our pricing online, our services are reasonably priced. Contact us today!
Learn More About Similar Accounting Topics:
Understanding the Accrual Accounting Method
The Difference Between Cash Basis and Accrual Basis Accounting
The Purpose and Practice of The General Ledger
What is the Cash method of Accounting?
What is Activity Based Costing?
Affordable Care Act and Small Business Requirements
Know Your Options in Small Business Finances
The Effects of Small Business Bankruptcy
How Do Small Business Loans Work?
The Importance of a Business Plan
Choosing the Best Small Business Credit Card
What is a Business Investment and How Should It Be Accounted For?
How Hard Is It To Get a Small Business Loan?
Understanding Different Entity Types
How Much Capital Is Needed to Start a Small Business?
Getting Involved in Business and Communicty Organizations
What are Business Liabilities?
What is Business and Financial Leverage?