Outsourced Financial Reporting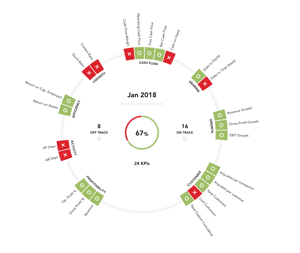 Are you getting the financial insights you need to effectively run your business?
If you're like the majority of entrepreneurs, you aren't. Reports are probably late, missing altogether, or put off until the last minute. But you don't have to keep concealing the chaos: Ignite Spot provides outsourced financial reporting for business owners who are tired of scrambling. When you choose to outsource business record-keeping, you'll be able to save time and count on our experts, who have ample experience in keeping financial records for business owners. With solid financial reports in hand, you can make more informed decisions to stay on top of your game. When you need to make a decision quickly, you'll be prepared, thanks to sound record-keeping for small-business owners from Ignite Spot.
What Financial Reports Will I Receive?
All of our clients get an in-depth set of reports each month to help them make the most from their financial position. Here are just a few of the reports that we provide to our amazing customers.
KPI Reports (Key Performance Indicators)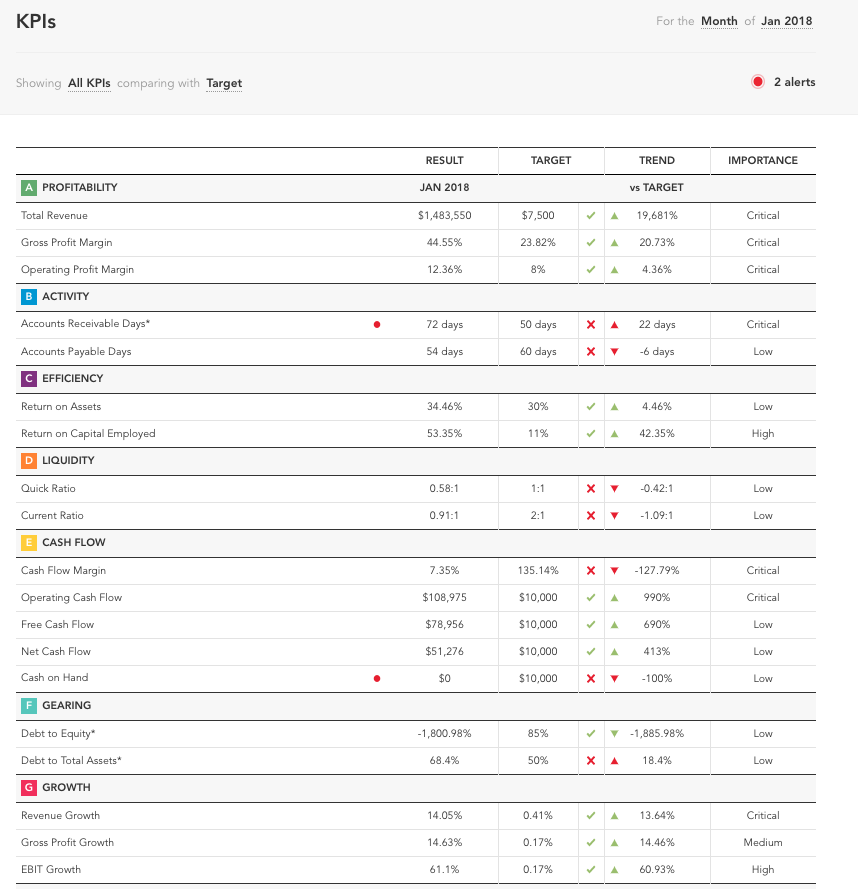 We believe in the value of analytics. As a client, you'll be able to set targets for key performance metrics within your company and then get monthly comparisons to see how you're doing. Track the success of your business across multiple areas of performance including profitability, efficiency, cash flow, and growth.
Financial Statements (Profit and Loss / Balance Sheet)
Every month, you will get bank-ready financial statements that you can use to make profitable business decisions. Not comfortable reading financials? No worries. We walk you through them in our monthly one-on-one accounting meetings to ensure that you're connected as the owner.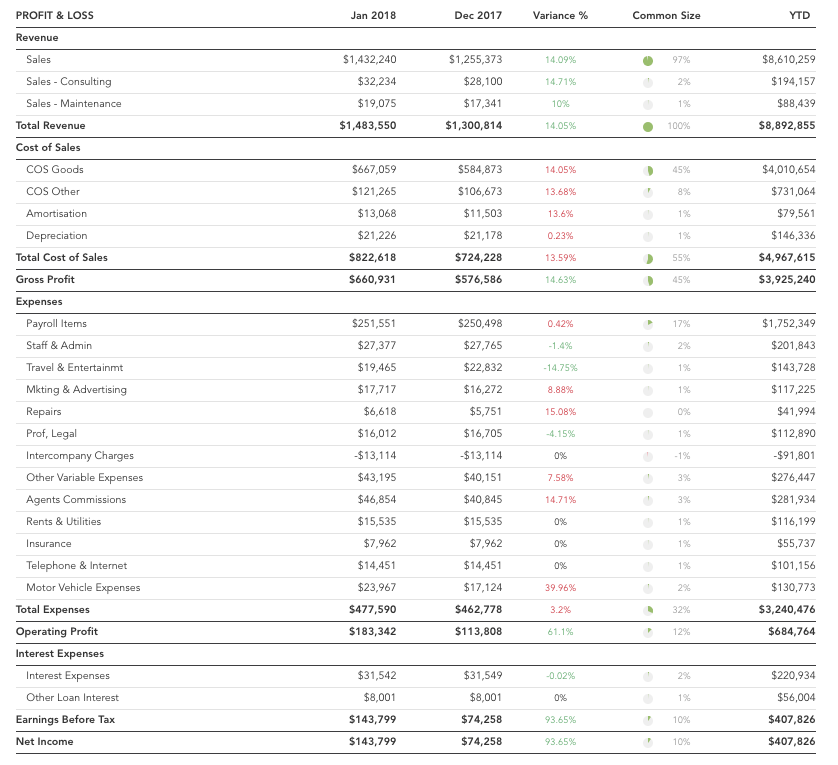 Additional Reports Like a Profitability Analysis
That's not all. Each month, we deliver several other reports like the one below to help determine key profit points. Learn to control the costs in your company and start benefiting from the kinds of reports that are both actionable and easy to understand.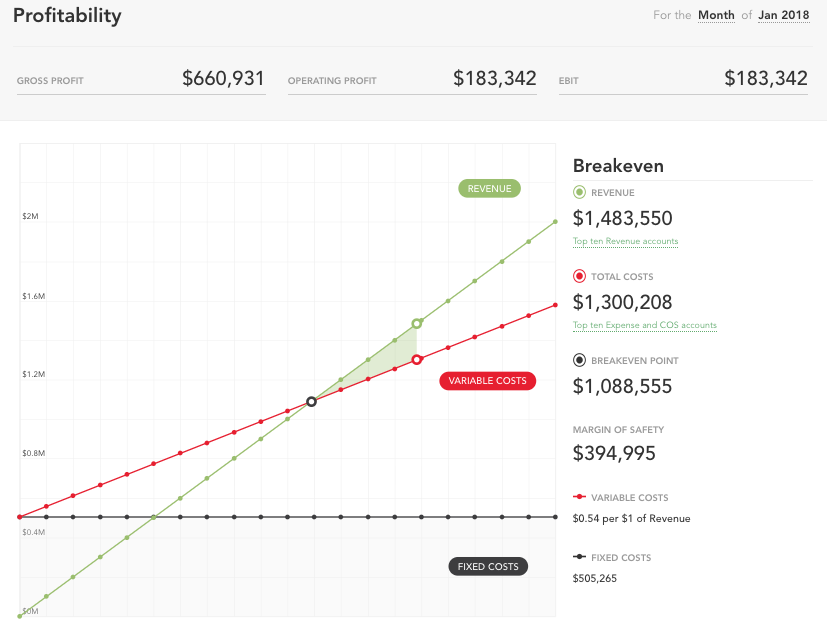 What Is Outsourced Accounting?
Outsourced accounting and record-keeping for small-business owners might be the best way to keep business records! It's the same as having your own accountant or accounting department, but work is done remotely with our team. When you outsource accounting services, you'll have all the benefits of a meticulous in-house accounting service, but everything is handled remotely to save your staff time and stress. The best outsourced accounting services offer professionalism and accuracy while saving your small business time and money. They can handle bookkeeping, the generation of financial reports, and more!
How Much Does it Cost to Outsource Accounting?
With Ignite Spot's outsourced accounting, pricing is customized based on your needs. Services can be bought on a weekly, semi-weekly, or semi-monthly schedule. Prices start at an average of $1,750 a month and increase based on the complexity of your business.
What Are the Pros and Cons of Outsourcing?
If you take a look at the pros and cons of outsourcing accounts payable and other financial tasks, you'll see that there are plenty of benefits, including having an expert staff to take care of keeping good business records for you and saving money. However, sometimes, the pros of outsourcing are balanced by a list of drawbacks. But when you work with Ignite Spot, we've removed some of outsourcing's typical weak spots.
For instance, some outsourcing services include hidden costs and are vulnerable to scope creep, but Ignite Spot will customize a payment plan for you that provides no more and no less than the exact services you need. We're always here to adjust and help you save.
Some people feel that they lose control when they outsource, but you'll always have quick and easy access to your team at Ignite Spot, so you can keep up to date or relax and let us take the wheel. Others worry about outsourcing financial record-keeping because they're afraid that their work will be sent to employees in a foreign country. But Ignite Spot's team is all-American, keeping jobs in the U.S. and ensuring that when you call, you'll be able to talk to us without worrying about communication issues or the schedules in distant time zones.
With Ignite Spot, we've taken care of all of the drawbacks, so you can relax and enjoy all of the benefits of outsourced financial record-keeping for small-business owners, like cost-effectiveness, a proactive approach, and reduced risk of fraud.
Benefits of Outsourcing Financial Record-Keeping
Develop a reliable reporting system for accurate analysis.
Build awareness of your cash position, profit, and other lifelines.
Understand the financial foundations of your business.
Avoid crises and plan for future growth.
These are just a few of the benefits you will enjoy if you choose to outsource finance and accounting tasks to Ignite Spot.
Common Financial Reports We Provide
Our business record-keeping includes:
Balance sheets
Income statements
Weekly cash-flow forecasts
Accounts receivable reports
Accounts payable reports
Custom internal reports
You'll receive weekly or monthly reports with our outsourced accounting services.
Lean More About Financial Reporting
Check out these resources to help you get a better handle on your finances:
Then, call us at 1-855-607-7477 to speak with an Ignite Spot accountant and learn more about how your business can grow and become more profitable by working with one of the best finance and accounting outsourcing companies.
Written by Eddy Hood
---
1-855-694-4648
Call Today
Speak with an Ignite Spot Accountant to see how we can help your business!
---
---